Alice A. Craig
---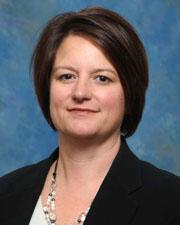 Attorney, Project for Innocence & Post-Conviction Remedies
Instructor, Trial Advocacy and Mock Trial
James A. Riedy Teaching Fellow
Biography
—
Alice Craig joined KU Law in April 2004 as an attorney in the Paul E. Wilson Project for Innocence and Post-Conviction Remedies. The Project represents state and federal prisoners in appellate and post-conviction litigation in state and federal courts. As an attorney in the Project, Craig supervises students in their casework and co-teaches the classroom component of the clinic. She was awarded the James A. Riedy Teaching Fellowship in 2019. 
Prior to joining the faculty, Craig worked for the Appellate Defender Office for several years before moving to litigation. She served as a trial attorney for the 10th Judicial District Public Defender, Jenab & Kuchar LLC, and the Kansas Death Penalty Defense Unit. She received a bachelor's in business administration from the University of Kansas in 1990 and her law degree from KU in 1995.
Education
—
J.D., University of Kansas School of Law, 1995
B.B.A., University of Kansas, 1990
Teaching
—
Trial Advocacy, Mock Trial, Project for Innocence & Post-Conviction Remedies
Selected Publications
—
Craig, Alice. 2018. Taming the Beast of Actual Innocence Cases. The Innocence Network Conference.
Craig, Alice. 2016. Litigating Wrongful Conviction Cases. Douglas County Bar Association.
Craig, Alice. 2015. Dealing with Gender Bias in Trial Advocacy. EATS Conference. Stetson University.