Bruce R. Hopkins
---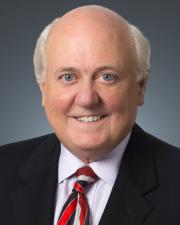 Biography
—
Bruce R. Hopkins practices in the field of nonprofit, tax-exempt organizations and is widely recognized as the country's leading authority in the field. His clients include charitable and educational organizations, associations, colleges, universities, hospitals, other health care providers, religious organizations, business and professional associations, and private foundations. Many nonprofit organizations retain Hopkins as general counsel; others use his services as special tax and/or fundraising counsel. He joined the KU Law faculty as Professor of Practice in August 2015.
Hopkins received the 2007 Outstanding Nonprofit Lawyer Award (Vanguard Lifetime Achievement Award) from the American Bar Association, Section of Business Law, Committee on Nonprofit Corporations. He is listed in The Best Lawyers in America, Nonprofit Organizations/Charity Law 2007-2015.
He is the editor of John Wiley & Sons, Inc.'s Nonprofit Law, Finance, and Management book series. He has written over 30 books published by Wiley.
Education
—
LL.M. in Taxation, George Washington University Law School, 1971
J.D., George Washington University Law School, 1967
B.A., University of Michigan, 1964
Teaching
—
Nonprofit and Tax-Exempt Organizations, Representing Nonprofit Organizations
Admitted
D.C. 1969, Missouri 1999
Selected Publications
—
Books
"The Law of Tax-Exempt Organizations" (11th ed., 2015).
"The Tax Law of Charitable Giving" (5th ed., 2014).
"The Law of Fundraising" (5th ed., 2013) [co-author].
Bruce R. Hopkins' Nonprofit Law Dictionary (2015).
"Tax-Exempt Organizations and Constitutional Law: Nonprofit Law as Shaped by the U.S. Supreme Court" (2012).
Bruce R. Hopkins Nonprofit Law Library (e-book) (2013).
"Private Foundations: Tax Law and Compliance" (4th ed., 2014) [co-author].
Starting and Managing a Nonprofit Organization: A Legal Guide (6th ed., 2013).
"The Law of Tax-Exempt Healthcare Organizations" (4th ed., 2013) [co-author].
"Nonprofit Law for Colleges and Universities: Essential Questions and Answers for Officers, Directors, and Advisors" (2011) [co-author].
"IRS Audits of Tax-Exempt Organizations: Policies, Practices, and Procedures" (2008).
"Nonprofit Governance: Law, Practices & Trends" (2009) [co-author].
"The New Form 990: Law, Policy, and Preparation" (2009) [co-author].
"The Tax Law of Unrelated Business for Nonprofit Organizations" (2005).
The Tax Law of Associations (2006).
"The Nonprofits' Guide to Internet Communications Law" (2003).
Representative Book Chapters
Chapter 11, "Nonprofit Law," in Heyman (ed.) "Nonprofit Management 101: A Complete and Practical Guide for Leaders and Professionals" (2011) [co-author].
Chapter 2, "The Legal Framework of the Nonprofit Sector in the United States," in Renz (ed.) The Jossey-Bass Handbook of Nonprofit Leadership and Management (2010) [co-author].
Chapter 1, "The Meaning of Tax-Exempt Status in the Work of Certification Organizations," in Schoon & Smith (eds.), "The Licensure and Certification Mission: Legal, Social, and Political Foundations" (2000).
Most Recent Article
"Disaster and Relief: Federal Tax Law Implications of the Federal Government's First Domestic Public Assistance Program," 73 Exempt Organization Tax Review (No. 4) 447 (April 2014).
Monthly Newsletter
Bruce R. Hopkins' Nonprofit Counsel
Selected Presentations
—
Hopkins annually presents at the following conferences:
University of Texas conference on Nonprofit Law
Washington Nonprofit Legal & Tax Conference (Washington, D.C.)
Representing & Managing Nonprofit Organizations, Georgetown University School of Law
Rocky Mountain Tax Seminar for Private Foundation, El Pomar Foundation (Colorado Springs)
American Law Institute conference on Nonprofit Law (Washington, D.C.)
Western Conference on Tax-Exempt Organizations, Loyola University School of Law (Los Angeles)
Memberships
—
American Bar Association: Taxation Section; District of Columbia Bar Association, Tax Section; Missouri Bar Association; Kansas City Metropolitan Bar Association