Lumen N. Mulligan
---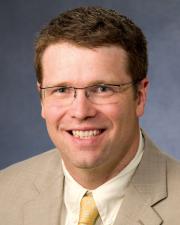 Earl B. Shurtz Research Professor
Biography
—
Lumen "Lou" Mulligan joined the KU Law faculty in 2010, where he teaches predominantly civil litigation courses. In the ensuing years, KU Law students have recognized Mulligan for his teaching several times, including awarding him the Dean Frederick J. Moreau teaching and mentoring award, selecting him to serve as their graduation hooder, and as their commencement marshal. He was named as an Earl B. Shurtz Research Professor in 2019. Mulligan also teaches undergraduate classes in the KU Honors Program.
Mulligan has authored or co-authored four books and treatises on jurisdiction and procedure. He publishes in prominent legal journals as well, including articles in the Michigan, NYU, Northwestern University, Washington University, UCLA, and Vanderbilt Law Reviews. In addition, he often writes for the bar-association press. State and federal courts at all levels cite Mulligan's scholarship regularly. He speaks frequently at academic, professional and CLE events. He served as a visiting professor at the University of Aberdeen, Scotland in 2014.
Mulligan oversees KU Law's Medical-Legal Partnerships, which aid low-income clients and provide law students with field placement experiences, at both the Lawrence Memorial Hospital and the KU Hospital in Kansas City. He directs KU Law's 3+3 program, L.E.A.D. Mulligan formerly served as the director of the Shook, Hardy & Bacon Center for Excellence in Advocacy. He served as associate dean for faculty from 2016 to 2019.
In addition to his duties at KU Law, Mulligan served, or continues to serve, on the Kansas Judicial Council – Civil Rules Advisory Committee, the executive committee of the appellate section of the Kansas Bar Association, the U.S. Tenth Circuit Court of Appeal Criminal Justice Act Panel, the board of directors for Kansas Legal Services, and the Kansas Court of Appeals Mediation Study committee. Mulligan frequently offers testimony to the Kansas legislature as well.  Mulligan continues with representation in court, most often in an amicus curia or pro bono capacity.
Prior to coming to KU Law, Mulligan was an associate professor at Michigan State University College of Law, where the student bar association recognized him as an outstanding instructor, and was an assistant professor of business law at the University of Michigan School of Business. His legal experience includes co-founding Stowell & Mulligan PA, working as a litigation associate attorney at Polsinelli, LLC, and serving as a judicial clerk on the U.S. Court of Appeals for the 10th Circuit.
Education
—
J.D., University of Michigan Law School, 2002
magna cum laude, Order of the Coif
M.A., University of Colorado, 1999
B.A., University of Kansas, 1995
Graduated with honors
Research
—
Jurisdiction and remedial powers of the federal courts
Ethical governance of nonprofit organizations
Admitted
Kansas 2003
Career History
Associate, Polsinelli, Shalton & Welte PC, 2002-03; Clerk, Chief Judge Deanell Tacha, U.S. Court of Appeals for the 10th Circuit, 2003-2005; Adjunct Lecturer, University of Kansas School of Law, 2003-04, Lecturer, 2005-06; Co-founder, Stowell & Mulligan, PA, 2005-06; Assistant Professor, University of Michigan Ross School of Business, 2006-2007; Associate Professor (without tenure), Michigan State University College of Law, 2009-10; Professor, University of Kansas, July 2010-present.
Teaching
—
Civil Procedure, Expert Witness Skills Workshop, Federal Courts, Jurisdiction
Selected Publications
—
Books
Federal Rules of Civil Procedure: Rules and Commentary (Thomson Reuters forthcoming 2020 edition) (with Steven S. Gensler).
Federal Courts and Jurisdiction: Cases and Materials (Carolina Acad. Press forthcoming 2020) (with Katherine Florey, Steven Gensler, & Thomas D. Rowe, Jr.).
Federal Civil Jurisdiction (In A Nutshell Series: West Academic Publ. 2015).
Lawyer's Guide to Kansas Evidence: Kansas Law and Practice Vol. 3 (5th ed.) (Thomson Reuters 2015) (with Michael A. Barbara and Chelsi Hayden) (Hayden & Mulligan sole active authors).

Supplements published in 2016, 2017, 2018 and 2019.

Kansas Code of Civil Procedure Annotated: Kansas Law and Practice Vol. 4-6 (5th ed.) (Thomson Reuters 2012) (three-volume treatise) (sole active author of 2012 new edition, which included over 700 pages of additions) (with the late Spencer A. Gard and Robert C. Casad).

Supplements published in 2011, 2013, 2014, 2015, 2016, 2017, 2018 and 2019.

Kansas Civil Jury Instruction Companion Handbook (Thomson Reuter 2011) (sole active author) (with Robert C. Casad).

Supplements published in 2012, 2013, 2014, 2015, 2016, 2017, 2018 and 2019.
Book chapter
Appellate Procedure, in Civil Litigation Handbook (Vector Legal Method 2018).
Law Review Pieces
Article III Jurisdiction's Lack of Originalism (in progress).
Civil Rules Interpretive Theory, 101 Minnesota Law Review 2167 (2017) (with Glen Staszewski).

Sole Work Selected for Presentation by the 2017 AALS Civil Procedure Section National Call for Papers.

Institutional Competence and Civil Rules Interpretation, 101 Cornell Law Review Online 64 (2016) (invited piece with Glen Staszewski).
We Should Use 'Cause of Action' More Carefully, 67 Florida Law Review Forum 42 (2015) (invited response essay).
Staking a 1331 Jurisdictional Claim, 89 Washington L. Rev. 441 (2014) (invited piece).
Asking the First Question: Reframing Bivens After Minneci, 90 Washington Univ. L. Rev. 1473 (2013) (with Alexander A. Reinert).
You Can't Go Holmes Again, 107 Northwestern U. L. Rev. 237 (2012).
The Supreme Court's Regulation of Civil Procedure: Lessons from Administrative Law, 59 UCLA L. Rev. 1188 (2012) (with Glen Staszewski).
Clear Rules — Not Necessarily Simple or Accessible Ones, 97 Virginia L. Rev. In Brief 13 (2011) (invited response essay).
Jurisdiction By Cross-Reference, 88 Washington Univ. L. Rev. 1177 (2011).
Did the Madisonian Compromise Survive Detention at Guantanamo?, 85 New York Univ. L. Rev. 535 (2010).
Federal Courts Not Federal Tribunals, 104 Northwestern U. L. Rev. 175 (2010).
A Unified Theory of 28 U.S.C. § 1331 Jurisdiction, 61 Vanderbilt L. Rev. 1667 (2008).
What's Good for the Goose is Not Good for the Gander: State, Sarbanes-Oxley-Style, Nonprofit Reforms, 105 Michigan L. Rev. 1981 (2007).
Why Bivens Won't Die: The Legacy of Peoples v. CCA Detention Centers, 83 Denver U. L. Rev. 685 (2006) (solicited piece for the annual Tenth Circuit edition).
Note, No Longer Safe at Home: Preventing the Misuse of Federal Common Law of Foreign Relations as a Defense Tactic in Private Transnational Litigation, 100 MICHIGAN L. REV. 2408 (2002).
Bar Journal Pieces
Separation of Powers and Judicial Independence in Kansas, 85 J. Kan. B. Assoc. 38 (May 2016).
E-Discovery 2.0, 90 J. Kan. B. Assoc. 25 (Oct. 2013) (with Joy Issacs).
Standards of Review and Reversibility, KS. Bar Assoc. Young Lawyers Forum, 2 (Winter 2012).
KS. Bar Assoc. Appellate Section Newsletter (March 2012) (editor).
KS. Bar Assoc. Appellate Section Newsletter (April 2011) (editor).
Other publications 
Is Personal Jurisdiction Constitutionally Self-Enacting, Jotwell.com (May 7, 2019).
More Amicus Briefing?, Jotwell.com (April 23, 2018).
But the Feds Do It That Way!, Jotwell.com (May 8, 2017).
Independent Judiciary Protects Our Liberties, KU LAW at 28 (Spring 2016).
Should We Publish All District Court Opinions?, Jotwell.com (Mar. 16, 2016).
Independent Judiciary Serves All, Lawrence Journal-World (Feb. 17, 2016).
Federal Causes of Action and Everything that Follows, Jotwell.com (Dec. 11, 2014).
Who should resolve issues relating to the Federal Rules of Civil Procedure?, SCOTUSblog.com (Oct. 17, 2012) (with Glen Staszewski).
Supreme Court Shifts Power from Juries to Judges, Lansing State Journal (May 28, 2009).
Legal Barriers to Accessing Health Care in Kansas for Same-Sex Couples, 80 Kansas Nurse 4 (2005) (peer-reviewed journal) (with Linda K. Mulligan).
Protecting Your Non-Profit from Legal Liabilities, guest editorial in Coalitions Online (May 2005) (with Jeffrey L. Stowell).
Memberships
—
Kansas Bar Association; American Bar Association; University of Kansas Honors Program Alumni Board