Virginia Harper Ho
---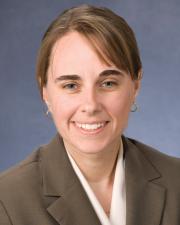 Earl B. Shurtz Research Professor
Biography
—
Virginia Harper Ho is an Earl B. Shurtz Research Professor and has been recognized by the University of Kansas as a Woodyard International Educator and a Docking Faculty Scholar. Her research focuses on the intersections of corporate governance, sustainability, and finance from a comparative perspective. She has written recently on financial disclosure, shareholder activism, comparative corporate governance and China's green finance reforms. Her work has been published by leading law journals and by the University of California-Berkeley's Institute for East Asian Studies.
Harper Ho is an associate editor of the American Journal of Comparative Law, a member of the Executive Committee of the American Society of Comparative Law, and a fellow of the National Committee on U.S.-China Relations' Public Intellectuals Program. She has also served as a Research Fellow of the International Institute of Green Finance (IIGF) at the Central University of Finance and Economics (CUFE) in Beijing. She previously served as a founding director of the law school's Polsinelli Transactional Law Center.
Prior to entering academia, Harper Ho practiced corporate and securities law and advised U.S. and foreign multinationals on cross-border transactions. She received her J.D. with honors from Harvard Law School.
Education
—
J.D., Harvard Law School, 2001
cum laude
M.A., Indiana University-Bloomington, 1997
B.A. in Russian Language & Literature, Chinese Language & Literature, Indiana University-Bloomington, 1995
summa cum laude
Research
—
Sustainable finance
Corporate governance
Shareholder activism
Comparative law
Multinational enterprises
Risk management
Corporate social responsibility
Securities regulation
Admitted
New York 2009, Indiana 2004 (inactive), Iowa 2001 (inactive)
Career History
Visiting Research Fellow, Central University of Finance & Economics, 2018; Visiting Scholar, Zhejiang University School of Law, June 2011; Visiting Lecturer, Zhongshan (Sun Yat Sen) University, 2008, 2011; Visiting Assistant Professor, Indiana University Maurer School of Law, 2008-2010; Associate, Baker & Daniels, LLP, Indianapolis, 2004-2008; Associate, Davis, Brown, Koehn, Shors & Roberts PC, Des Moines, 2001-2002, 2003-2004; CAPS Research Fellow, University of Iowa, Center for Asian Pacific Studies, 2003-2004; Clerk, Judge Robert W. Pratt, U.S. District Court, Southern District of Iowa, 2002-2003.
Languages
Mandarin Chinese, Cantonese, Russian
Teaching
—
Business Organizations, Chinese Law, Corporate Finance, Deals, Due Diligence in Business Transactions, International Commerce and Investment, Seminar in Corporate Social Responsibility, Sustainability and the Law
Selected Publications
—
Harper Ho, V. E. (2018). Nonfinancial Disclosure & The Costs of Private Ordering [Journal Articles]. American Business Law Journal, 55, 1. 
Harper Ho, V. E. (2018). Sustainable Finance & China's Green Credit Reforms: A Test Case for Bank Monitoring of Environmental Risk [Journal Articles]. Cornell International Law Journal, 51, 609. 
Harper Ho, V. E. (2017). 'Comply or Explain' and the Future of Nonfinancial Reporting [Journal Articles]. Symposium: Innovating Corporate Social Responsibility: From the Local to the Global, 21, 317. 
Harper Ho, V., de Jonge, A., & Tomasic, R. (2017). Capital Market Disclosure Regimes: Advancing Accountability for Chinese TNCs [Book Chapters]. In Handbook of Research on Transnational Corporations. Edward Elgar.
Harper Ho, V. E. (2016). Risk-Related Activism: The Business Case for Monitoring Nonfinancial Risk [Journal Articles]. Journal of Corporation Law, 41, 647. 
Harper Ho, V. (2015). Team Production & the Multinational Enterprise [Journal Articles]. Berle VI Symposium: Blair & Stout and Beyond, 38, 499.
Harper Ho, V. E., & Huang, Q. (2014). The Recursivity of Reform: China's Amended Labor Contract Law [Journal Articles]. Fordham International Law Review, 37, 973.
Harper Ho, V. E. (2014). The Pursuit of Happiness with Chinese Characteristics [Journal Articles]. UMKC Law Review, 82 (973).
Harper Ho, V. E. (2013). Beyond Regulation: A Comparative Look at State-Centric Corporate Social Responsibility & the Law in China [Journal Articles]. Vanderbilt Journal of Transnational Law, 46, 375. 
Harper Ho, V. E. (2013). Of Enterprise Principles and Corporate Groups: Does Corporate Law Reach Human Rights? [Journal Articles]. Columbia Journal of Transnational Law, 56.
Harper Ho, V. E. (2012). Corporate Governance as Risk Regulation in China: A Comparative View of Risk Oversight, Risk Management, and Accountability [Journal Articles]. European Journal of Risk Regulation, 4, 463. 
Harper Ho, V. E. (2012). Governance Beyond Regulation: Corporate Social Responsibility and the Role of the State in Comparative Perspective [Journal Articles]. 公共行政评论 [Chinese Journal of Public Administration], 2, 100.
Harper Ho, V. E. (2012). Theories of Corporate Groups: Corporate Identity Reconceived [Journal Articles]. Seton Hall Law Review, 42, 879–951.
Harper Ho, V. E. (2010). "Enlightened Shareholder Value": Corporate Governance Beyond the Shareholder-Stakeholder Divide [Journal Articles]. Journal of Corporate Law, 36, 59.
Harper Ho, V. E. (2009). From Contracts to Compliance? An Early Look at Implementation Under China's New Labor Legislation [Journal Articles]. Columbia Journal of Asian Law, 23, 35.
Selected Presentations
—
Harper Ho, V. E. (10/9/2018). U.S.-China Tariffs & Trade. 2018 China Town Hall Meeting, National Committee on U.S.-China Relations. Kansas City
Harper Ho, V. E. (9/14/2018). Accelerating Sustainable Finance: A Network Production Model of Transnational Regulatory Innovation. 2018 World Interdisciplinary Network for Institutional Research (WINIR) Conference on Institutions and the Future of Global Capitalism, Chinese University of Hong Kong. Hong Kong
Ho, V. E. (7/10/2018). Sustainable Finance & China's Green Credit Reforms: A Test Case for Bank Monitoring of Environmental Risk. China Academy of Social Sciences. Beijing, China
Ho, V. E. (6/21/2018). Sustainable Finance & China's Green Credit Reforms: A Test Case for Bank Monitoring of Environmental Risk. National Taiwan University. Taipei, Taiwan
Harper Ho, V. E. (5/24/2018). Moderator, "The Opportunities & Challenges of Chinese Foreign Investment: A Public Forum". Sponsored by the National Committee on U.S.-China Relations' Public Intellectuals Program, funded by Carnegie Corporation of New York. Kansas City World Trade Center
Harper Ho, V. E. (9/11/2017). Nonfinancial Risk & The Costs of Private Ordering. 2017 Law, Finance & Sustainability Conference, University of Sheffield (UK), Sheffield Institute of Corporate and Commercial Law (SICCL)
Harper Ho, V. E. (6/9/2017). Disclosure Effectiveness, Nonfinancial Risk, & The Costs of Private Ordering. 2017 National Business Law Scholars Conference, University of Utah S.J. Quinney College of Law
Harper Ho, V. E. (3/2/2017 - 3/3/2017). Shareholder Activism & Voluntary Reporting. 2017 J.B. Maurice C. Shapiro Environmental Law Symposium. George Washington University School of Law
Harper Ho, V. E. (11/16/2016 - 11/16/2016). China's Green Credit Reforms: Creditor Monitoring & ESG Transparency. International & Comparative Law Research Forum. Harvard Law School
Harper Ho, V. E. (10/7/2016 - 10/7/2016). "Comply or Explain" and the Future of Nonfinancial Reporting. 2016 Business Law Forum: Innovating CSR - From the Local to the Global. Lewis & Clark University School of Law
Ho, V. E. (8/9/2015). Integrating Law, Sustainability and Environment in the Business Curriculum. Academy of Legal Studies in Business (ALSB) Annual Meeting. Philadelphia, Pennsylvania
Harper Ho, V. (2/5/2015 - 2/6/2015). Corporate Responsibility in China: Law & the Business Case for Strategic CSR. Symposium: Corporate Social Responsibility in Emerging Markets. University of South Carolina School of Law
Harper Ho, V. E. (10/16/2014). Presenter, Legal Reform and Social Change in China. China Town Hall Meeting, National Committee on U.S.-China Relations. Washburn University
Harper Ho, V. E. (9/23/2014). Shareholder Activism and Firm-Specific Risk: Arbitraging Engagement. United Nations' Principles for Responsible Investment Academic Network Conference: Bridging the Gap. Montreal, Canada
Harper Ho, V. E. (6/7/2014 - 6/9/2014). From the Balance Sheet to Beta: A Hands-On Approach to Teaching Accounting & Finance Concepts. AALS 2014 Midyear Meeting Workshop: Blurring Boundaries in Financial & Corporate Law. Washington, D.C
Harper Ho, V. (6/23/2014 - 6/24/2014). Team Production & the Multinational Enterprise. Berle VI Symposium: Blair & Stout and Beyond. University of Seattle School of Law
Harper Ho, V. E. (7/1/2013). Government Voluntary Clubs: A Comparative Look at Regulatory Innovation. Colloquium, Fudan University, School of International Relations and Public Affairs
Harper Ho, V. E. (1/5/2013). Corporate Governance as Risk Regulation in China: A Comparative View of Risk Oversight, Risk Management, and Accountability. American Association of Law Schools (AALS) Annual Meeting, Section on Business Associations panel on Business Associations and Governance in Emerging Economies
Harper Ho, V. E. (5/9/2012). Regulating Beyond Regulation: State Sponsorship of Corporate Social Responsibility in China. Chinese Law Works-in-Progress Workshop, Columbia University School of Law
Memberships
—
American Bar Association, Section of International Law, Section of Business Law; New York State Bar Association; UNPRI Academic Network