KU Law announces associate dean for diversity, equity, inclusion and belonging
---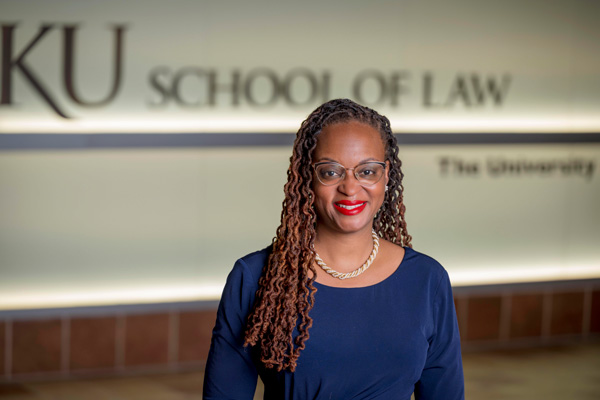 LAWRENCE — The University of Kansas School of Law has announced the appointment of Jamila Jefferson-Jones, professor of law, as the new associate dean for diversity, equity, inclusion and belonging.
Jefferson-Jones will lead diversity, equity, inclusion and belonging initiatives for the School of Law. She will coordinate with the law school's DEIB advisory committees of faculty and staff, students and alumni to set a strategic vision for KU Law's efforts in this area. In the newly created associate dean role, Jefferson-Jones will engage with the law school's students, faculty, staff and administration to promote a diverse, equitable and inclusive environment for all members of the KU Law community.
"The School of Law's efforts to build a welcoming and inclusive environment for our students over the past decade have been productive. We've led students and faculty in discussions about how to have conversations about race and justice within and outside the classroom, as well as conversations about developing a unique professional identity," said Stephen Mazza, dean of the School of Law.
"But sometimes these efforts felt disjointed, and follow-up programming didn't always take place. The law school's response to important incidents was also sometimes delayed. By elevating DEIB issues within an associate dean position, we hope to better coordinate our efforts and make more progress in this area," Mazza said.
In the past, three advisory committees have contributed programming, training and guidance to the law school's DEIB efforts: the Faculty & Staff Committee on Diversity & Inclusion, the student-led Dean's Diversity Leadership Council and the alumni Diversity Advisory Council. The expectation is that these committees will remain in place, although some revisions may occur to increase their effect.
"I am excited to join the KU Law community and continue the important work of DEIB to which so many members of this community have already shown their commitment," Jefferson-Jones said. "I hope to implement cohesive and empowering programming and initiatives that will not only strengthen DEIB at the law school, but will establish our law school as a national leader in this area."
Jefferson-Jones joined the KU Law faculty in July. She will teach courses in property law beginning in the spring semester. Jefferson-Jones was a visiting associate professor of law at KU in spring 2018, teaching Property and Fair Housing Law Seminar courses.
Before joining KU Law, Jefferson-Jones was a professor of law and associate director of property, equity and justice for the Damon J. Keith Center for Civil Rights at Wayne State University School of Law. She was previously a professor at the University of Missouri-Kansas City School of Law, teaching courses in property, fair housing and real estate transactions, and serving as interim director of the Black Studies Program in the UMKC College of Liberal Arts and Sciences.
In 2021, Jefferson-Jones received the Jefferson B. Fordham Advocacy Award from the American Bar Association Section of State and Local Government Law, recognizing her outstanding legal advocacy in the field. She is an American Bar Foundation Fellow and a former University of Missouri System Presidential Engagement Fellow, and she is active on several committees of the Association of American Law Schools and the ABA.
Jefferson-Jones' legal scholarship focuses on property and wealth attainment by communities and groups on the margins of society. She examines the ways members of favored racialized groups exclude minoritized populations from public and private spaces, thus enforcing the racial segregation of space and racist notions of supremacy. Her work harnesses critical race methodologies, focusing in part on the use or threat of police action against members of disfavored groups. Her recent article on this subject, #LivingWhileBlack: Blackness As Nuisance, was published in the American University Law Review and featured in the New York Times.
Jefferson-Jones is a graduate of Harvard Law School and Harvard College. Prior to beginning her career in academia, Jefferson-Jones practiced law for over a decade at firms in the District of Columbia and in her hometown of New Orleans.
---
Photo by Earl Richardson.