Graduate Employment Statistics
---
Class of 2021 Employment Statistics
KU Law reports students employed 10 months following graduation to the ABA and NALP. For the Class of 2021, the ABA required that a student be employed as of March 15, 2022, to be counted.
Overall employment for the KU Law Class of 2021 was 96.9%. Including one student enrolled in a full-time graduate program, the overall number was 97.9%. This represents the eighth consecutive year of overall employment at or above 90%, including full-time graduate degree enrollment.

This includes 95.9% of the class who landed positions that were Bar Passage-Required or JD-Advantage jobs that were also full-time and long-term — jobs that we regard as the highest quality positions for new graduates.
Unless otherwise specified, all numbers are based on data reported to the ABA for the Class of 2021. Differences in criteria between bodies like the ABA and NALP may create minor differences in similar categories. Find the related ABA and NALP forms on the Consumer Information (ABA Required Disclosures) page.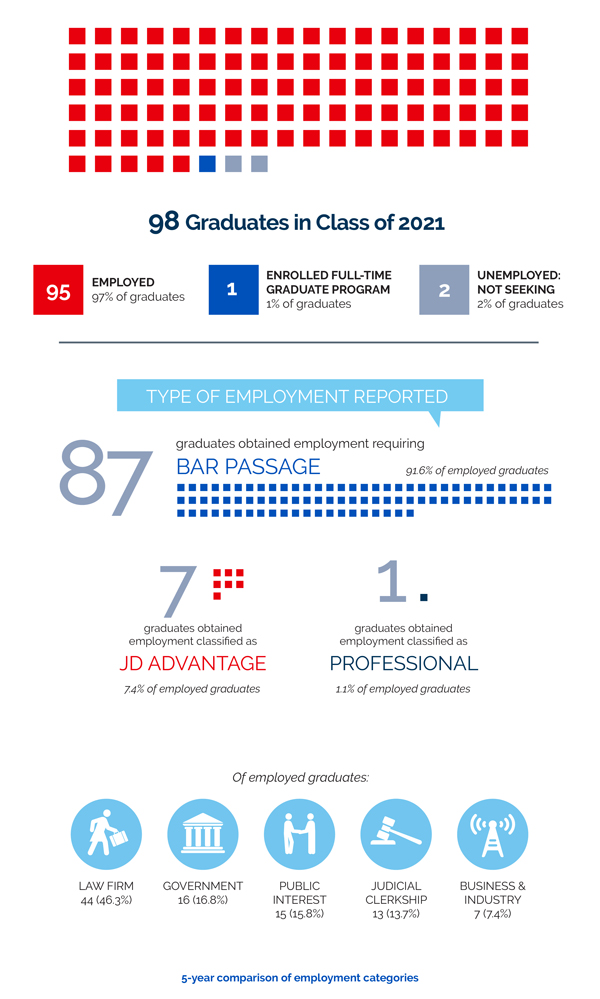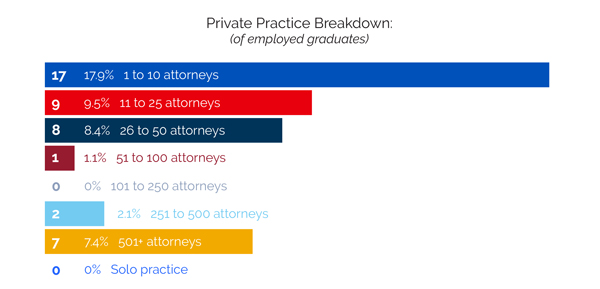 Where Our Graduates Go
While many of our students and graduates choose to work in communities throughout Kansas or in the Kansas City metropolitan region, our students and graduates come from and work across the U.S. and abroad. Our loyal alumni are found in all 50 states and around the globe.
Geographic distribution for the classes of 2016-2020
Recent graduates have been law clerks at all levels, including federal courts ranging from the U.S. Court of Appeals for the Ninth Circuit to numerous district, magistrate and bankruptcy courts. They have also served as judges on the Kansas Supreme Court and Court of Appeals. Our students and graduates have accepted summer and/or permanent employment with firms, businesses, public interest organizations, judges and government agencies all over the country.
ABA Statement on Employment Data
Per Interpretation 509-2 of Standard 509, law schools may choose to publicize additional employment outcome data beyond what the Employment Protocols require. This additional data, per Standard 509, must be "complete, accurate, and not misleading to a reasonable law school student or applicant." Law schools are expected to use "due diligence in obtaining and verifying such information." The following additional employment outcome data has not been, and will not be, audited by the ABA. It is meant to supplement the annual ABA Employment Summary Report, which reflects the employment status of members of each graduating class as of the annual Graduate Employment Status Date of March 15. Please reference the three years of employment outcome data posted on the ABA Required Disclosures webpage of each ABA-Approved Law School or at abarequireddisclosures.org.