Overview
The Field Placement Program provides students an opportunity to perform legal work under the supervision of a practicing attorney at approved governmental agencies, as well as nonprofit legal services organizations and nonprofit public national and international organizations.
Students enrolled in the Field Placement Program work a specified number of hours per week under the supervision of a practicing attorney, complete a goals memorandum, maintain weekly journals of their experience, participate in online discussions, and write a final reflective paper.
Past field placements include: the United Nations, JAG Corps, Colorado Attorney General's Office, Kansas Attorney General's Office, EPA, Department of Education Office of Civil Rights, ACLU of Kansas, Spencer Museum of Art, the Kansas Department of Revenue and many more.
Field Placement Program Resources
Admission to the Field Placement Program
In order to enroll in the Field Placement Program and receive credit for a field placement, you must:
Have completed two semesters of law school;
Be in good academic standing;
Have a firm field placement offer that meets the requirements below; and
Apply and be accepted into the Field Placement Program.
Field Placement Ideas
If you are not sure where you want to work or want ideas, make an appointment with Professor Glenn Jewell at gjewell@ku.edu.
Field Placement Program Limits
A student may earn a maximum of six hours of credit toward graduation through the Field Placement Program. Field Placement hours count toward the 16-credit hour limit on field placement and clinic credit hours that may be applied to graduation.
Field Placement Application Process
The Field Placement application is available in the "Apply for the Field Placement Program" tab. Submit a hard copy of this completed form and supporting documentation to Yolanda Huggins at ylhuggins@ku.edu.
Field Placement Program Enrollment
Once your application has been reviewed, if admitted, you will be notified of your admission into the program and sent an enrollment code that will enable you to enroll in LAW 894 Field Placement Program.
If you are enrolling for summer, enroll for the first summer session, rather than the second summer session, regardless of which part of the summer you will be working.
Field Placement Program Application Deadlines
Fall Semester: August 19
Spring Semester: December 1
Summer Semester: May 15
If you missed the deadline and would still like to apply, contact Professor Glenn Jewell at gjewell@ku.edu.
Field Placement Job Requirements
The field placement must be with a government entity or a nonprofit. Credit is never given for work at a for-profit entity.
You may not have previously worked in that position for pay.
You may not be paid for your field placement work. This excludes some general stipends.
You must be directly supervised by a licensed attorney.
Your work must be primarily legal work.
Field Placement Hour Requirement
You are required to work 42.5 hours for each hour of credit earned. Written work required by the classwork component may count toward these hours.
Field Placement Coursework Requirements
In addition to working at your field placement, students are required to:
Complete online coursework;
Meet with Professor Schmidt at least once during the semester either in person or by phone; and
Keep a weekly reflection journal and submit a final reflection paper.
Field Placement Orientation
All field placement students are required to attend Field Placement Orientation in person prior to the beginning of their field placements.
Required Professionalism Seminar
Each student is required to attend the Professionalism Seminar. If you have already attended this seminar prior to your work with another field placement or clinic, then you do not need to attend it again.
Glenn Jewell is the director of bar preparation and the director of the Field Placement Program, including the 6th Semester in D.C. Program, at KU Law. He also teaches the Extended Bar Preparation and Employment Law classes at the law school. Prior to joining the law school, Jewell was in private practice on Saipan, Commonwealth of the Northern Mariana Islands, focusing primarily on employment law, civil litigation, and general corporate matters. He also practiced employment law in Kansas City for four years.
Student Testimonial: Fighting the good fight
Miranda Luster, L'19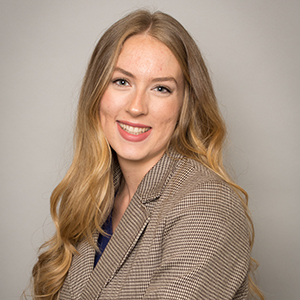 Miranda Luster served as a legal intern for the Shawnee County Public Defender's Office and the Capital Appeals and Conflicts Office in Topeka as part of the Field Placement Program.
At the Public Defender's Office, Luster wrote motions and did jail intakes. She went to the jail to meet with clients and record their basic information, including health history and whether they were able to make bond.
Through this position, she found the most reward in helping others.
"I know public defenders get a bad rap, but this job is really important," Luster said. "We help people who don't have the money to hire an attorney get through a complicated legal system and come out with a result that's best for rehabilitating the client and the community."
Questions?
Glenn Jewell
Director, Field Placement Program
Director, 6th Semester in D.C. Program
Director of Bar Preparation
gjewell@ku.edu