Judicial Field Placement Program
---
Overview
In the Judicial Field Placement Program, students serve as interns with federal and state judges.
Under the supervision of a judge, law clerk or staff attorney, interns perform research, draft documents and observe courtroom proceedings to expand their knowledge of how our court systems operate.
Judicial Field Placement Program Resources
Pamela Keller joined the KU Law lawyering skills faculty in 1999. She graduated from KU Law in 1993. She has served as director of the lawyering skills program since 2006 and directs the judicial field placement and moot court programs.
Student Testimonial: 'An enjoyable and educational experience'
Donald Pinckney, L'23
Donald Pinckney worked as a judicial intern for Judge Rhonda K. Mason at the Johnson County Courthouse through the Judicial Field Placement program. Pinckney shared his experience with the Judicial Field Placement for a Q&A.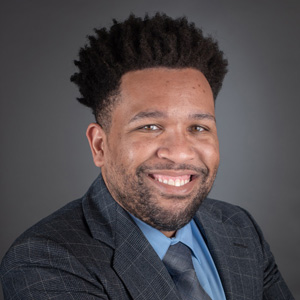 What type of work did you do through the field placement?
I did research for Judge Mason and wrote the occasional court order. My research has consisted of researching case law to find answers to cases Judge Mason has taken under advisement. I also have written summary judgment orders and memos detailing my research.
What interested you in enrolling in this course?
I enrolled in this course because I was interested in seeing the legal practice in the real world. I wanted to see some of the things that I learned in Civil Procedure and Torts put into practice in the real world. I also wanted to see different practice areas like divorce and litigation to help determine which practice area I found most interesting. I thought this course would also be helpful to determine which area I did not want to practice.
Are there skills you've developed or improved working with the field placement?
I improved my researching skills substantially by working on legal issues for Judge Mason while working on her under advisement docket. I also improved my writing skills especially when it came to clarity. My legal writing improved as I wrote legal orders for Judge Mason and had to make sure my orders were as clear as possible since they would be published and decide the outcome of cases.
How do you think this experience will impact the rest of your time in law school or the start of your career?
This experience will impact the rest of my time in law school by giving me a real-world expectation for how the legal profession operates. I will now be able to take real-world experience into the classroom and understand more thoroughly how case law interacts with legal practice. It will also be helpful to have established some contacts in a large county for when I practice in the future.
What has been your favorite part of this experience?
Getting the chance to see attorneys practice in person. It has been eye-opening to see how attorneys interact with one another and that the legal field is not so contentious as I assumed. While the system is adversarial by nature, seeing attorneys work with one another to deal with issues, especially when it comes to divorce and scheduling issues, was revealing. It was also enjoyable to discuss the outcome of the case with Judge Mason and get an understanding of why she ruled a certain way. Discussing the cases with Judge Mason was both the most enjoyable and educational part of the field placement.
What would you say to law students considering enrolling in this field placement?
I would encourage students to enroll in the field placement since it will give you an understanding of why law school is taught a certain way. It is also nice to have a large amount of autonomy over how you conduct your learning experience. It is a nice segue between having the controlled experience of 1L year and the freedom of being an upperclassman in law school.