Judicial Field Placement Program
---
Overview
In the Judicial Field Placement Program, students serve as interns with federal and state judges.
Under the supervision of a judge, law clerk or staff attorney, interns perform research, draft documents and observe courtroom proceedings to expand their knowledge of how our court systems operate.
Judicial Field Placement Program Resources
Pamela Keller joined the KU Law lawyering skills faculty in 1999. She graduated from KU Law in 1993. She has served as director of the lawyering skills program since 2006 and directs the judicial field placement and moot court programs.
Student Testimonial: Judicial Field Placement is 'rewarding' experience
Malika Baker, L'20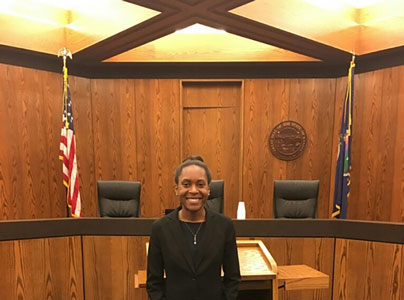 Malika Baker served as an intern for Judge Steve Leben at the Kansas Court of Appeals as part of the school's Judicial Field Placement Program.
"It was very rewarding to work with such experienced and insightful people," Baker said. "Judge Leben and all of the judges that I met at the Kansas Court of Appeals shared great insight on being a focused and dedicated lawyer."
At her internship, Baker conducted legal research and wrote memoranda. She also worked on a pre-hearing bench memo for a three-judge panel that included a case summary, facts, deep-issue statements, analysis and a recommendation for the ruling.
"The most rewarding part of my job was being able to foster my research and writing skills while working on real cases," Baker said.