Overview
KU Law hosts a variety of events throughout the year, including an engaging series of conferences, workshops, lectures and symposia.
For a full list of upcoming events, visit the KU Law Events Calendar.
Upcoming Lecture Series Events
Robert C. Casad Comparative Law Lecture
The Casad lecture series is named in honor of Professor Emeritus Robert C. Casad, who has been on the faculty at the KU School of Law since 1959 and is internationally known for his scholarship in comparative civil procedure. He retired from classroom teaching in 1997 but continues to conduct research and publish books and articles.
---
2022 Robert C. Casad Comparative Law Lecture
April 19, 2022 | 3:45 p.m. | 107 Green Hall
Reception to follow in the first-floor commons
*Please note masks are required in classrooms on campus
"Forced Together, Never Sustainable? Post-Conflict Federalism in Bosnia and Herzegovina"
Professor Jens Woelk from the University of Trento (Italy) will deliver this year's lecture. Woelk is a full professor of comparative constitutional law at the University of Trento (Italy), at the Faculty of Law ("Euregio chair") and the interdisciplinary School of International Studies. After obtaining his Ph.D. in legal sciences at the University of Regensburg (Germany), Woelk worked at Eurac Research in Bolzano/Bozen (1994-2000) at the Institute for Comparative Federalism. His research interests include federalism/regionalism, comparative constitutional law and European Union law, minority rights and the constitutional transformation processes in Southeast Europe. In the Western Balkans, Woelk has participated in various projects and missions as an expert for the European Union and the Council of Europe, and as Senior International Legal Expert on EU integration matters at the High Judicial Council of Bosnia and Herzegovina (Sarajevo, 2018-2019).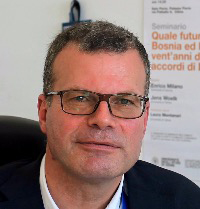 ---
Past Casad lecture speakers and topics include:
"Comparing Constitutions in the Global Era: Opportunities, Purposes and Challenges"
Professor Roberto Toniatti, University of Trento
February 8, 2019
"Twentieth-Century Sovereign Debtors: From Germany to Greece"
Richard M. Buxbaum, University of California Berkeley School of Law
October 8, 2015
"The Cosmopolitan State"
H. Patrick Glenn, McGill University
September 14, 2012
"U.S. Class Actions and the 'Global' Class"
George A. Bermann, Columbia Law School
December 1, 2008
---
---
---
Recurring Lectures and Conferences
The Kansas Journal of Law & Public Policy Symposium, held in the spring, explores how the law shapes public policy choices and how public policy choices shape the law.

The Kansas Law Review Symposium, held in the fall, discusses state law issues, topics pertinent to the plains region and legal ethics.

The Media & the Law Seminar facilitates national dialogue about the latest legal issues and developments in media, law and technology. The seminar traditionally offers CLE credit.
The Patent Conference — which was co-founded by Professor Andrew Torrance — provides a forum for patent scholars to share research and recent developments in law, economics and other disciplines.

The Recent Developments in the Law CLE Seminar reviews the latest developments in a wide range of practice areas.

The Tribal Law & Government Conference highlights emerging and historical problems of indigenous law and governance.
Lecture Series Events
Diplomat's Forum
The Diplomat's Forum is the law school's most prestigious international and comparative law event. Its aim is to provide a platform for an open sharing of thoughts on international law and relations and the United States through the perspective of a professional with notable diplomatic experience in the service of a foreign government.
Recent Diplomat's Forum speakers and topics include:
"Animal Law: The Connection Between Domestic Violence and Animal Cruelty - A New Zealand Perspective"
Anita Killeen; Barrister at the Independent Bar of New Zealand; Former Chief Prosecutor of New Zealand's Serious Fraud Office
March 5, 2018
"International Legal Accountability and the Right to Development: An African Perspective"
Professor Obiora Chinedu Okafor, Osgoode Hall Law School, York University
March 7, 2016
"The Middle East: Winds of Change and Quicksand – The Arab Awakening, Israel and the Region"
Avi Melamed, Rosenzwog Fellow of Intelligence and Middle East Affairs, Eisenhower Institute
March 27, 2014
Sean Hagan, general counsel and director, Legal Department, International Monetary Fund
Fall 2012
Anthony Amunategui Abad, managing director, TA Trade Advisory Group, The Philippines
Spring 2011
Ambassador Liu Zhenmin, deputy permanent representative to the United Nations, People's Republic of China
Fall 2008
Fawaz Al Alamy, deputy minister of commerce and industry and Chief World Trade Organization technical negotiator, Saudi Arabia
Fall 2007
Takao Shibata, consul general, Japan
Spring 2007
Robert Zischg, consul general, Austria
Spring 2006
Margriet Vonno, economic counselor, Royal Dutch Embassy, The Netherlands
Fall 2003