Mock Trial Program
---

Program Overview
Law students interested in advancing their advocacy skills in a courtroom setting can participate in KU Law's Mock Trial Program.
Through classroom, courtroom and competition experience, students learn advanced evidence and trial techniques and participate in simulated trials. While moot court replicates the appellate setting, mock trials allow students to practice lower-court trials. They represent a party, prepare a case for trial and try the case to a jury.
KU Law offers both an in-house Mock Trial Competition course and a Mock Trial Council that represents the school in national competitions. The Mock Trial Competition course is open to students during their first and second years of law school. Members of the Mock Trial Council are selected from those students who excel in the in-house Mock Trial Competition course.
The University of Kansas Mock Trial Team also offers a mock trial experience for undergraduate students of all majors. Many KU Law Mock Trial participants got their start in undergraduate programs.
Mock Trial Program Information
The Mock Trial Competition class is a week-long, one-credit course available at the end of the spring semester. The class is an intensive, learn-by-doing experience for students to practice trial advocacy skills, including opening statements, closing arguments, witness examinations, and use of exhibits.
Students participate in a mock trial at the end of the week, and top-performing students will be invited to join the Mock Trial Council.
2021 In-House Mock Trial Competition
Winners: Joan Lee and Caleb Hanlon
Top Advocate: Caleb Hanlon
2020 In-House Mock Trial Competition
Best Overall Advocate: Kirstyn Dvorak
Top Advocate in Final Round: Rachel Simon
Members of the Mock Trial Counsel continue developing their advocacy skills while competing nationally for KU Law in mock trial competitions.
Past competitions include:
National Mock Trial Competition
All Star Bracket Challenge Mock Trial Competition
TYLA (Texas Young Lawyers Association) National Mock Trial Competition
Queens County District Attorney's Office Mock Trial Competition
Buffalo-Niagara Mock Trial Competition
2022-2023 Mock Trial Council
Katherine Carter
Kileigh Cerny
Emma Cleland-Leighton
Lexi Finley
Ashley Grams
Caleb Hanlon
Bryna Huber
Clay Karpowich
Kaelee Keesee
Joan Lee
Brandon Lock
Braydn Monhollon
Colin Murphy
Kevin Salazar
Lauren Stahl
Richard Weber
Student Testimonial: Mock Trial solidified decision to pursue a career in litigation
Joan Lee, L'23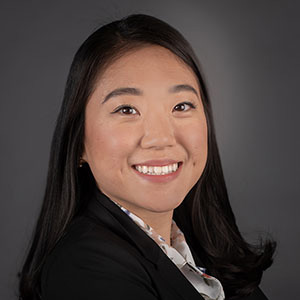 I was never involved in mock trial or debate club during my undergraduate years, and I recognized early on that I needed to grow myself in this area. Furthermore, I wanted to improve my public speaking skills and learn how to present a case in the courtroom. The Mock Trial Program is a fun and challenging opportunity to learn how to become effective advocates in a low stake environment. 
I am more confident speaking in front of crowds. I have learned how to approach issues in a creative manner and effectively communicate my client's position to a judge/jury. In addition to that, I have also developed forecasting skills—thinking of all the possible scenarios and their future impacts—as I've brainstormed with my teammates on case strategy. I learned about proper courtroom etiquette. I have been able to improve upon making objections and providing responses using the Federal Rules of Evidence.
Participating in Mock Trial has solidified my decision to pursue a career in litigation. I am certain that the many valuable skills I have gained from this course will be transferred and utilized throughout my legal career.