LEAD Program
KU is excited to offer the LEAD: Legal Education Accelerated Degree Program. This innovative 3+3 program allows KU students to earn a B.A. and a J.D. in six years instead of seven.
LEAD at KU
Overview
As a LEADer, you will have the opportunity to:
Earn a bachelor's degree and a law degree in six years
Be guaranteed admission to KU Law after your junior year, provided that you meet the admission requirements
Have opportunities to connect with KU Law professors and students prior to your admission
Prepare for your career through specialized law-related educational activities and internship opportunities
Visit the LEAD Program website through KU's College of Liberal Arts & Sciences for application instructions and more information about the program for KU undergraduate students.
LEAD Partners
Students at state universities across Kansas have the opportunity to accelerate their legal education and save a year of tuition. KU Law has LEAD 3 Plus 3 Program partnerships with three state universities:
Students spend three years on requirements for a bachelor's degree from their undergraduate institution and three years on requirements for a KU law degree.
Student Testimonial: Taking the leap to law school
Makaela Stevens, Class of 2024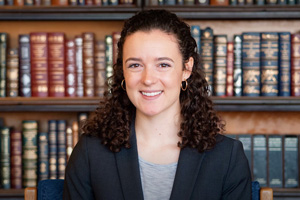 When Makaela Stevens was just a senior in high school, she received an email advertising the Legal Education Accelerated Degree (LEAD) Program.
"The email I received explained that the program was available to me even though I was going to do my undergrad at K-State, and I could still come to KU Law," Stevens said. "That was before I was totally sure I wanted to go to law school and I was just tossing the idea around. It sounded like a pretty good deal if decided I did want to pursue law school."
Stevens went on to apply and was accepted into the program. The program got her more interested and confirmed her decision to study law.  
"It got me really involved once I got to K-State and was in the prelaw program. There were events throughout the year such as a mock law class and visits from KU law professors to ask questions. It was a great way to meet people and learn more," Stevens said.
Student Testimonial: The right place at the right time
Zachary Kelsay, L'21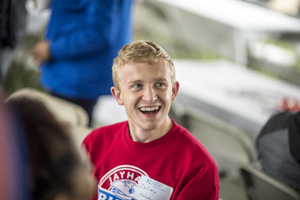 Ever since I was a little kid, I have wanted to be a lawyer. When my mom would read stories to me before bed, I remember there was a book all about people who work (construction workers, teachers, doctors, etc.). I only wanted my mom to read one page: the one with the people in suits carrying briefcases and talking to a jury. 
I chose KU because of one thing: the LEAD program. The LEAD program allows students to "double-dip" their undergrad elective credits with their first year of law classes to get a bachelor's degree and a law degree in six years.
Though I am younger than most of my peers, Green Hall is a very supportive environment where people of many different experiences contribute to the school's character.
Student Testimonial: From newbie to whiz kid
Samantha Wagner, L'19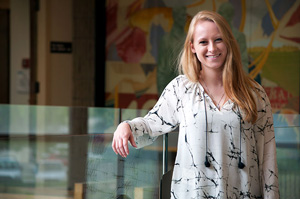 "The best three years of your life that you will never want to experience again." That was how a current lawyer and mentor described law school to me. And let me tell you, he was right.
The first year of law school is the most challenging, stressful thing I have ever done. That being said, I am loving law school! It is amazing, and I have made closer friends in the last few months than I had through years of undergrad.