Law Journal to explore the barriers formerly incarcerated people face for successful re-entry
---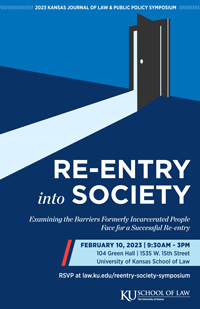 LAWRENCE - The United States continues to have one of the highest recidivism rates in the world. How can formerly incarcerated people successfully re-enter society when so many barriers have been put in place against them?
On Feb. 10, the 2023 Kansas Journal of Law & Public Policy Symposium will host a discussion to provide ideas on how to reform the current system.
"This year's symposium will host academics, legal scholars, and re-entry court graduates to discuss the most prominent barriers preventing a successful re-entry for formerly incarcerated persons," Symposium Editor Lauren Lindell said.
"Re-entry into Society: Examining the Barriers Formerly Incarcerated People Face for Successful Re-entry" will run from 9:30 a.m. to 3 p.m. at the University of Kansas School of Law in Green Hall. Breakfast and a social hour will open at 8:30 a.m. The event is free and open to the public, but registration is required.
Register and preview the complete symposium schedule.
Speakers include:
Judge Stephen Bough, U.S. District Judge for the Western District of Missouri
Mike Fonkert, Kansas Appleseed
Lucius Couloute, Assistant Professor of Sociology & Criminal Justice, Suffolk University
Emily Salisbury, Associate Professor, College of Social Work, University of Utah and Director, Utah Criminal Justice Center
Chidi Umez-Rowley, Deputy Program Director, Counsel of State Governments Justice Center
Speakers will discuss current issues surrounding housing access, employment, fines and fees, and financial marginalization.
Scholarship associated with the symposium will be published in an upcoming issue of the Kansas Journal of Law & Public Policy. For more information, contact Lauren Lindell at kjlppsymposium1@gmail.com.