KU Law reports graduate employment over 90% for seventh consecutive year
---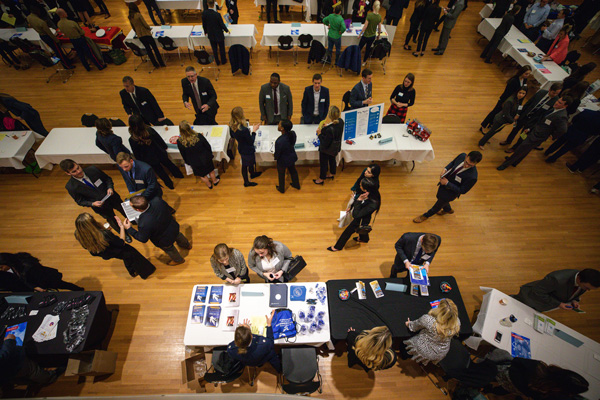 LAWRENCE – The University of Kansas School of Law reported graduate employment over 90% for the seventh consecutive year.
Overall employment for the KU Law Class of 2020 was 93.1%, according to data released by the American Bar Association. KU Law is among the top quarter of law schools nationwide for overall employment within 10 months of graduation, compared with all ABA-accredited law schools.
More than 83% of KU Law graduates in 2020 landed best jobs – defined as full-time, long-term law jobs that require bar exam passage or where a juris doctor offers an advantage. A recent Law.com report places KU Law in the top third nationally for full-time jobs that require bar passage.
"We are encouraged that, even in a year seriously impacted by the global health pandemic, our students still achieved excellent employment outcomes," said Heather Spielmaker, assistant dean for career services at KU Law. "High-caliber instruction and classroom preparation help create graduates who are confident and competent, and that clearly resonates well with our employers."
The legal news outlet Above the Law recently included KU Law in its 2021 Top 50 Law School Rankings. The rankings — which place KU Law at 44th – focus primarily on positive employment outcomes, low education cost and low graduate debt.
KU Law ranks as the No. 19 Best Value Law School in the country, according to National Jurist magazine. That ranking, released in the fall, highlights affordable law schools whose graduates perform well on the bar exam and have had success finding legal jobs. National Jurist ranks the top 20 schools and assigns a letter grade to 40 additional honorees.
"We are pleased that KU Law is included in these rankings that focus on outcomes and value for our students," said Stephen Mazza, dean and professor of law. "At KU Law, we know that value isn't just about reasonable tuition. It is about our graduates securing quality jobs and passing the bar exam at a rate that routinely exceeds the state average."
During the 2020 calendar year, 91% of first-time test takers from KU Law passed the bar exam (.pdf). In the two states where most KU Law graduates take the exam, 91.1% passed the Kansas Bar Exam and 94.4% passed the Missouri Bar Exam. KU Law's Free Bar Prep Program offers a post-graduate Themis Bar Review course to students at no cost.
Employment data for KU and all ABA-accredited law schools is available on the ABA website. Visit the KU Law website for an infographic with complete Class of 2020 employment data.
---
Photo: KU Law students meet with employers during Legal Career Options Day at the Kansas Union in 2019. Credit: Andy White, KU Marketing Communications.