KU Law earns top-20 best value ranking
---
LAWRENCE – The University of Kansas School of Law is the No. 19 Best Value Law School in the country, according to National Jurist magazine.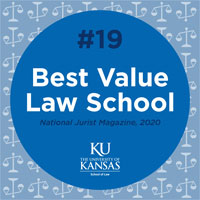 The ranking highlights affordable law schools whose graduates perform well on the bar exam and have had success finding legal jobs. National Jurist ranked the top 20 schools and assigned a letter grade to the other 40 honorees.
"KU Law is committed to providing value for our students by giving them the freedom to pursue careers defined by their passions, not by excessive financial burdens," said Stephen Mazza, dean and professor of law. "Our students learn the foundations of the law from nationally recognized teachers and scholars. They gain the hands-on experience needed to begin their careers ready for practice through clinics, field placements and skills simulations."
National Jurist gives employment success the greatest weight in the Best Value rankings. KU Law has recorded overall employment over 90% for new graduates for six consecutive years, with a placement rate of 93% for the Class of 2019. More than 86% of graduates in the Class of 2019 landed "best jobs" — defined as full-time, long-term positions that require passing a bar exam or where a law degree offers an advantage – according to data released by the American Bar Association.
The magazine's Best Value methodology also looks at a number of other academic and financial variables, including price of tuition, cost of living, student debt accumulation and bar passage rate, both for first-time test takers and those who passed within two years of graduation. KU Law ranked 26th in the nation for the latter metric, with 96.55% of graduates in the Class of 2017 passing the bar.
National Jurist considers the percentage of graduates with loans in its Best Value scores. U.S. News ranked KU Law 20th in the nation among law schools with the lowest percentage of graduates who finish school with debt. This year, more than 80% of first-year law students at KU Law received scholarships.
The website bestvaluelawschools.org recently ranked KU Law as the No. 14 most affordable law school in the country. The rankings account for tuition and acceptance rate.
See the complete list of Best Value honorees from National Jurist and review the ranking methodology.