Law professor receives award for innovation in scholarly communication
---
LAWRENCE – Professor Corey Rayburn Yung is one of two recipients of the 2022 David Shulenburger Award for Innovation & Advocacy in Scholarly Communication, granted by the KU Libraries.
The announcement coincides with KU Libraries' celebration of International Open Access Week, which is Oct. 24-30. The recipients will be honored at a later date. Shannon O'Lear, director of the Environmental Studies Program, is the second recipient.
Yung is recognized for his publication of two OER law textbooks that have helped reduce costs for students in a particularly expensive field of study. 
Corey Rayburn Yung: Far-reaching impacts through OER
Concerned about the affordability of course materials used in his classroom and their overly broad scope and outdated laws, Yung decided to publish two OA textbooks, Sex Crimes and Criminal Law.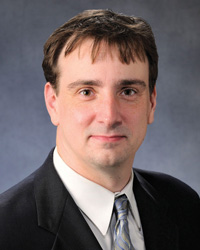 "Law school materials are insanely expensive and not very flexible or adaptable, even for professors, so you end up with a system that doesn't really work well for anyone, which is why I started writing some open access materials," Yung said. "I'm surprised at the response and am very excited and honored." 
When Yung began teaching the first sex crimes course at KU, no suitable course materials existed and had to create his own. After many years of using his own materials, Yung made them publicly available in Sex Crimes. His second open access book, Criminal Law, can be adapted by instructors to reflect local jurisdictions and includes a teacher's manuals, classroom slides, videos and review assignments. His free and open textbooks are now used in universities across the country.
"Professor Yung demonstrates a deep and sustained interest in decreasing costs for law students by creating multiple editions of two open textbooks that are adopted widely," said Josh Bolick, head of the David Shulenburger Office of Scholarly Communication & Copyright. "In a field known for costly education, that's an important contribution."
Granted annually, the Shulenburger Award for Innovation & Advocacy in Scholarly Communication recognizes KU staff, faculty, students and academic departments that engage in outstanding efforts to facilitate open access. Former KU Provost and Executive Vice Chancellor David Shulenburger, a longtime advocate for open access, established the award with a private gift in 2014 to recognize KU community members demonstrating exceptional advocacy and innovation in the scholarly communication system.
Learn more about open access news, policy and impact at KU.