Ikhtiyor Turaboev
---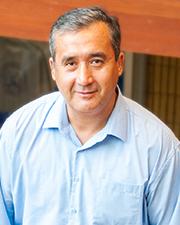 Previous Visiting Scholar
Faculty of Law, Department of Administrative and Financial Law, Tashkent State University of Law
Biography
—
Ikhtiyor Turaboev serves as a senior lecturer at the Department of Administrative and Financial Law at the Tashkent State University of Law, located in Tashkent, Uzbekistan. At Tashkent State University of Law, he currently teaches Financial law and Tax law courses.
Before joining Tashkent State University of Law, Turaboev was a legal advisor at the Tashkent office of the International Finance Corporation (IFC). He also worked at the Tashkent offices of such multinational companies as Daewoo (South Korea) and Huawai (China).
Turaboev earned an LL.M. in International Studies at the American University Washington College of Law after receiving the Uzbek government scholarship Umid (Hope) for talented youth to study abroad in 1998.
Turaboev participated in KU Law's overseas visiting scholar program as a fellow in the Faculty Enrichment Program administered by the American Councils for International Education.
Career History
Senior lecturer of the Department of Administrative and Financial Law, Tashkent State University of Law, 2018-present
Senior lecturer of the Department of Business Law, Tashkent State University of Law, 2015-208
Head of the Department of Financial, Banking, and Tax Law, Tashkent State University of Law, 2013-2015
UNDP Tashkent Office National Consultant 2012,
Legal advisor to the International Finance Corporation (IFC), 2007-2011
Legal adviser of a Foreign Enterprise LLC, "Huawei Tech. Investment Tashkent,"  2006-2007
Legal adviser of an Uzbek-Korean joint venture, UzDaewoo Auto 2004-2006
Chief legal adviser, Association "Uzautosanoat,"  2000-2004
Education
—
Ph.D. in Law, Tashkent State University, 2019
LL.M. in International Legal Studies, American University, 2000
LL.B., Ferghana State University, 1998