Law Review Symposium to explore the evolving laws of parenting
---
LAWRENCE – How do laws that protect, regulate, or otherwise imagine parenting affect the rights of children and childhood outcomes?
On Nov. 15, the 2022 Kansas Law Review Symposium will host a panel of scholars from across the country to respond to that question and propose legal reforms to improve outcomes for the children of America's modern families.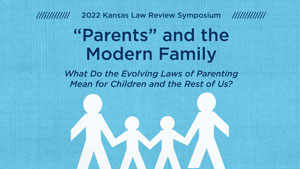 "Parents and the 'Modern' Family: What Do the Evolving Laws of Parenting Mean for Children and the Rest of Us?" will run from 9:30 a.m. to 3 p.m. at the University of Kansas School of Law in Green Hall. Check-in and breakfast will open at 8:30 a.m. The event is free and open to the public, but registration is required. 
Register and preview the complete symposium schedule.
Speakers include:
Speakers will discuss topics including the role of parents in preserving democracy, parenting and the Ninth Amendment, and "the noncitizen parent trap."
The symposium is sponsored by the Shook, Hardy & Bacon Center for Excellence in Advocacy at KU Law.
Scholarship associated with the symposium will be published in a spring 2023 issue of the Kansas Law Review. For more information, contact Doug Bartel, symposium editor, at 2022kulawreviewsymposium@gmail.com.