Melanie Daily
---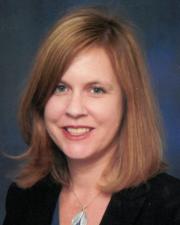 Director, Legal Aid Clinic
Clinical Associate Professor
She/her/hers
Biography
—
Melanie Daily is a clinical associate professor and director of KU Law's Douglas County Legal Aid Clinic. Through the clinic, she works with law students to represent clients in juvenile and criminal defense, criminal record expungement, and other related matters.
Daily's scholarly interests focus on the intersection of state and family, particularly in the context of poverty, juvenile defense, education, and child welfare. She draws upon her experience in practice working with survivors of intimate partner violence and children charged with crimes as well as her work before law school developing and implementing a wilderness-based diversion and rehabilitation program for system-involved children in Florida and South Carolina.
Daily's current service outside the law school environment includes membership on the Kansas Judicial Council's Family Law Advisory Committee and Kansas Legal Services' Board of Directors, chairing a local Juvenile Justice Advisory Board, ongoing involvement in national legal education advocacy through the Clinical Legal Education Association, and delivering substantive presentations on juvenile law, family law, and legal education at local and national training events. She is co-editor of the nationally recognized Best Practices for Legal Education Blog.
She is a graduate of the Washington University in St. Louis School of Law, where she competed on the national trial advocacy team and participated in a top-ranked civil justice clinic, and the University of Chicago, where she worked on issues in urban education policy. Before joining the KU Law faculty, Daily clerked for the Hon. Kathianne Knaup Crane at the Missouri Court of Appeals, Eastern District and was an attorney at Legal Services of Eastern Missouri Inc. She is proud to have been a member of the Missouri Bar Leadership Academy and a member of the inaugural class of the Shriver Center's Racial Justice Training Institute. 
Education
—
J.D., Washington University in St. Louis School of Law, 2007
A.B., University of Chicago, 1999
Research
—
Research Interests
Domestic relations law
Intimate partner violence
Juvenile justice
Rights of children
State regulation of the family
Admitted
Missouri 2007, Kansas 2015
Career History
Clinical Associate Professor and Director, Legal Aid Clinic, University of Kansas School of Law, 2015-present; Attorney, Legal Services of Eastern Missouri, 2008-2014; Judicial Clerk to Kathianne Knaup Crane, Missouri Court of Appeals, 2007-2008.
Selected Committee Work
School
KU Law Academic Affairs Committee, Bar Prep/Curriculum Committee
KU Standards and Procedures for Promotion and Tenure Committee
KU Faculty Senate
Local/State
Chair, Douglas County Juvenile Justice Advisory Board
Member, Kansas Legal Services Board of Directors
Member, Douglas County Bar Association
National
Co-Chair, CLEA Best Practices in Pedagogy Committee, Board member, CLEA
Teaching
—
Advanced Legal Aid Clinic, Family Law, Legal Aid Clinic
Memberships
—
American Bar Association, Association of American Law Schools (AALS) Section on Clinical Legal Education, Clinical Legal Education Association (CLEA), Kansas Bar Association, Missouri Bar, National Legal Aid and Defender Association, Society of American Law Teachers