Law Review Symposium to investigate judicial conduct and misconduct
---
LAWRENCE – Tasked with resolving all matters before them, judges are perceived to be impartial, fair and just. Their authority, however, has prevented some judges from always seeing the consequences of their actions. A panel of judicial ethics experts from across the country will discuss "Judicial Conduct & Misconduct: A Review of Judicial Behavior from Sexting to Discrimination" at the 2021 Kansas Law Review Symposium on Nov. 15.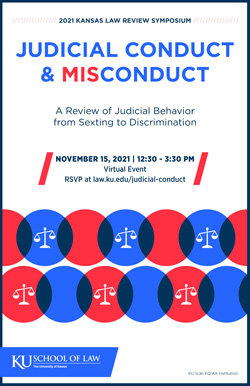 The symposium will run from 12:30 to 3:30 p.m. The online event is free and open to the public, but registration is required. Register and preview the complete schedule online.
"We are very excited for this year's symposium on judicial conduct and misconduct. The impartiality of judges is a cornerstone of our justice system," said Symposium Editor Rachel Zierden, a third-year law student at the University of Kansas. "Recently, however, judicial misconduct has been appearing more frequently in the news, from judges misusing technology to outwardly expressing bias. We wanted to address this topic with several judicial ethics experts who can review and discuss the current situation and rules regarding judicial conduct."
Speakers include:
Keynote Speaker: Justice Caleb Stegall, Kansas Supreme Court
Michael Ariens, professor of law, St. Mary's University School of Law
Ross Davis, professor of law, Antonin Scalia Law School, George Mason University
Susan Saab Fortney, professor of law, Texas A&M University School of Law
Adam Hoeflich, partner, Bartlit Beck LLP
Michael Hoeflich, John H. & John M. Kane Distinguished Professor of Law, KU School of Law
Christopher Joseph, partner, Joseph, Hollander & Craft, LLC
Stephen Sheppard, professor of law, St. Mary's University School of Law
Scholarship associated with the symposium will be published in a spring 2022 issue of the Kansas Law Review.