2021 Kansas Law Review Symposium
---
2021 Kansas Law Review Symposium
Judicial Conduct & Misconduct: A Review of Judicial Behavior from Sexting to Discrimination
Monday, November 15, 2021
12:30 - 3:30 p.m. CST
Virtual event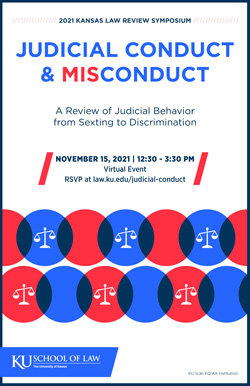 Tasked with resolving all matters before them, judges are perceived to be impartial, fair and just. They are expected to behave ethically according to the Model Code of Judicial Conduct. Their authority, however, has prevented judges from always seeing the consequences of their actions. Judges have allegedly engaged in many unethical behaviors such as sexting through smartphone applications and emails, posting about political biases and confidential cases on social media, and engaging in discrimination against staff and litigants. 
The Kansas Law Review Symposium will host a panel of judicial ethics experts from across the country to discuss judicial conduct and misconduct, guidelines necessary to promote ethical behavior, and reforms needed to prevent any similar conduct in the future.
No CLE credit will be offered during the symposium.
Symposium Schedule
2021 Law Review Symposium Schedule
Time
Speaker
12:30 - 12:40 p.m.
Welcome
Stephen Mazza, dean and professor of law
Michael Hoeflich, John H. & John M. Kane Distinguished Professor of Law
Rachel Zierden, symposium editor
12:40 - 12:55 p.m.
Ross Davies
Professor, Antonin Scalia Law School, George Mason University
12:55 - 1:10 p.m.
Michael Ariens
Professor, St. Mary's University School of Law
1:10 - 1:25 p.m.
Stephen Sheppard
Professor, St. Mary's University School of Law
1:25 - 1:40 p.m.
Susan Saab Fortney
Professor, Texas A&M University School of Law
1:40 - 1:55 p.m.
Christopher Joseph
Partner, Joseph, Hollander & Craft, LLC
1:55 - 2:10 p.m.
Stephen McAllister
Professor, University of Kansas School of Law
2:10 - 2:25 p.m.
Adam Hoeflich
Partner, Bartlit Beck LLP
2:25 - 2:55 p.m.
Keynote Speaker: Hon. Caleb Stegall
Justice, Kansas Supreme Court
2:55 - 3:25 p.m.
Question & Answer
3:25 - 3:30 p.m.
Closing Remarks
Cost
The symposium is free and open to the public, but registration will be required.
Program Accessibility
Closed captioning will be provided during this virtual event. We accommodate persons with disabilities. Please submit your request no later than November 1 to Rebecca Clayton at rclayton@ku.edu or 785-864-2388 TTY: 711.
Symposium Issue
Scholarship associated with the symposium will be published in a spring 2022 issue of the Kansas Law Review.
Contact the Kansas Law Review