Carl Folsom
---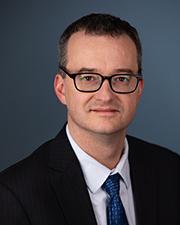 Biography
—
Carl Folsom is a judge for the Douglas County District Court. Judge Folsom was appointed to the bench in 2022 and currently handles cases involving general civil litigation, domestic, and limited actions. He became an adjunct professor of Trial Advocacy in 2018.
Before joining the bench, Judge Folsom served as a trial attorney with the Office of the Federal Public Defender in Topeka, Kansas. In that role, he was also an attorney mentor and instructor in the District of Kansas's Second Chair Program, a training program for new CJA panel attorneys. He also served as faculty for the Federal CJA Trial Skills Academy.
Judge Folsom initially joined the Federal Public Defender system in 2012, first working as a research-and-writing specialist and then as an assistant federal public defender for the Northern and Eastern Districts of Oklahoma. Earlier in his career, Judge Folsom was as a partner in the Lawrence, Kansas law firm Bell Folsom, PA. He started his career as an attorney with the Kansas Appellate Defender Office.
Judge Folsom is a graduate of the University of Kansas and the University of Kansas School of Law. In 2019, he was awarded the inaugural Clarence Darrow Award from the Kansas Association of Criminal Defense Lawyers, an award given for excellence in trial advocacy. In 2021, he was awarded the Kansas Bar Association's Courageous Attorney Award, which recognizes a lawyer who has displayed exceptional courage in the face of adversity.
Education
—
J.D., University of Kansas, 2005
B.A., University of Kansas, 2002