Edwin W. Hecker, Jr.
---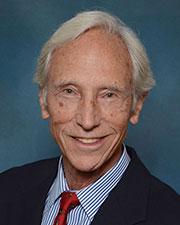 Centennial Teaching Professor Emeritus of Law
Biography
—
Webb Hecker is one of the law school's most well-respected teachers. He was the Robert A. Schroeder Teaching Fellow from 1990 to 1993 and was named the Centennial Teaching Professor in 2015. He received the Immel Award for Teaching Excellence in 1996, the W.T. Kemper Fellowship for Teaching Excellence in 2000, the Moreau Award for commitment to advising students in 2008 and the Chancellor's Club Career Teaching Award in 2017. A recognized authority on corporations, partnerships and limited liability companies, Hecker is an active member of the business law sections of the American and Kansas bar associations. He holds law degrees from Wayne State University and Harvard University and, prior to joining the KU Law faculty, practiced business law with the Detroit firm of Miller, Canfield, Paddock & Stone. After 47 years of teaching at KU Law, he retired in 2019.
Education
—
LL.M., Harvard Law School, 1970
J.D., Wayne State University Law School, 1969
Note & Comment Editor, Wayne Law Review, summa cum laude
B.A., Oakland University, 1966
Research
—
Corporations
Partnerships
Limited liability companies other unincorporated business organizations
Admitted
Michigan 1969
Career History
Associate, Miller, Canfield, Paddock & Stone, Detroit, 1970-72; Associate Professor, University of Kansas, 1972-76; Professor, 1976-2015; Robert A. Schroeder Teaching Fellow, 1990-93; Associate Dean for Academic Affairs, 2000-07; Centennial Teaching Professor 2015-present.
Selected Publications
—
"Fiduciary Duties in Business Entities Revisited," 61 University of Kansas Law Review 923 (2013)
"Fiduciary Duties in Business Entities," 54 University of Kansas Law Review 975 (2006)
"Limited Liability Companies" (2002) (with Woodworth & Ford)
"State Limited Partnership Laws (1987-91)" (with Bamberger & Basile)
"Limited Liability Companies" in "Kansas Corporation Law & Practice" (5th ed. 2011) (with S. Woodworth)