Elinor P. Schroeder
---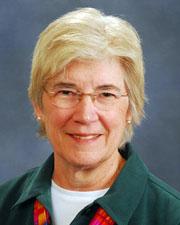 Paul E. Wilson Distinguished Professor Emeritus of Law
Biography
—
Elinor Schroeder joined the KU Law faculty in 1977 and taught at KU for 40 years. She was a recognized authority in labor and employment law. She was named the Paul E. Wilson Professor of Law in 1999, a recognition of the quality of her scholarship. Schroeder is an outstanding teacher as well and a recipient of the law school's Immel Award for Teaching Excellence. In 1984, the KU Commission on the Status of Women named her the outstanding woman teacher at KU and inducted her into the University of Kansas Women's Hall of Fame. She holds both a bachelor's degree and a law degree from the University of Michigan, where she was the articles and book review editor of the Michigan Law Review. Schroeder retired in May 2017.
Education
—
J.D., University of Michigan Law School, 1974
Articles & Book Review Editor, Michigan Law Review
B.A., University of Michigan, 1968
Research
—
Employment law
Employment discrimination law
Labor law
Admitted
Missouri 1974, Kansas 1985
Career History
Attorney, Spencer, Fane, Britt & Browne, Kansas City, Mo., 1974-77; Associate Professor, Kansas, 1977-82; Professor, 1982-present; Visiting Professor, Michigan, Fall 1987; Associate Dean for Academic Affairs, Kansas 1995-98; Paul E. Wilson Professor of Law, 1999-present.
Selected Publications
—
"Employment Law" (with Rothstein, Craver & Shoben) (3rd edition 2005)
"Employment Law" (with Rothstein, Craver, & Shoben) (3d ed. 2004)
"Human Resources and the Law" (with Rothstein, Craver, Shoben & Vander Velde) (1994)
Editor, Kansas Employment Law Handbook (2d ed. 2001) (1st ed. 1991 + Supp. 1992, 1995)
Memberships
—
Phi Beta Kappa; Order of the Coif; State of Kansas Employment Security Advisory Council 1984-91; Board of Directors, Kansas Legal Services, Inc. (Member 1984-88, 1990-94, President 1987-88); Kansas Continuing Legal Education Commission, 1995-2000.