Michael J. Davis
---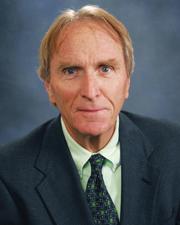 Centennial Teaching Professor Emeritus of Law
Biography
—
Michael Davis is an honor graduate of Kansas State University and the University of Michigan Law School, where he served as an editor on the Michigan Law Review. He joined the KU law faculty in 1971 and retired in 2015. An outstanding teacher, he received the Immel Award for Teaching Excellence in 1991 and was named Centennial Teaching Professor of Law in 1997. In addition to his faculty duties, Davis served as University General Counsel for six years and Dean of the school for nine. He was also Interim Dean from July 2005 to July 2006. He has been involved in many aspects of the practice both regionally and nationally and has served as Chair of the American Bar Association Standards and Accreditation Committees. Davis was Of Counsel to the Kansas City firm of Stinson Morrison Hecker from 1989-2009.
Admitted
Missouri 1968, Kansas 1972; various federal courts, including United States Supreme Court
Career History
Associate, Arent, Fox, Kintner, Plotkin & Kahn, 1967; Reginald Heber Smith Fellow, Legal Aid Society of Greater Kansas City, 1967-68; Associate Director, Planning & Research, Legal Services Program, O.E.O, 1968-69; Legislative Assistant, U.S. Representative Louis Stokes, 1969-71; General Counsel, Kansas University 1974-80; Associate Professor, Kansas University 1971-74; Professor, Kansas University, 1974-present; Dean, School of Law 1980-89; Interim Dean, 2005-2006.
Education
—
J.D., University of Michigan Law School, 1967
Editor, Michigan Law Review
B.A., Kansas State University, 1964
Selected Publications
—
"Remembering Justice Byron R. White," 50 Kansas Law Review 1085 (2002)
"Protecting Group Homes for the Non-Handicapped: Zoning in the Post-Edmonds Era," 46 Kansas Law Review 777 (with K. Gaus) (1998)
"To The Promised Land: A Century of Wandering and a Final Homeland for the Due Process and Taking Clauses," 68 Oregon Law Review 393 (with R. Glicksman) (1989)