Courage, Accountability, Persistence: Hard Fought Lessons in Sports and Social Justice
---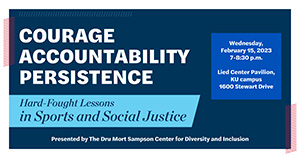 LAWRENCE - On Feb. 15, The Dru Mort Sampson Center for Diversity and Inclusion at the University of Kansas School of Law will host its inaugural event discussing social justice in the world of sports.
"Courage, Accountability, Persistence: Hard-Fought Lessons in Sports and Social Justice" will run from 7-8:30 p.m. at the Lied Center Pavillion. Attendance is free and open to the public. Seating will be first come, first served. Advanced registration is required.
This event will feature a moderated conversation with three speakers about their experiences advocating for social justice in the sports world. The speakers will be Joe Briggs, executive strategist at Amazon; Cliff Wiley, L'83, decorated track athlete and attorney; and Kyle Velte, professor of law and associate dean at KU Law.
"Sports are a microcosm of society," said Jordan Carter, KU Law visiting assistant professor and member of the DEIB community. We can talk about the big social and cultural issues of our time through the lens of sports."
Briggs is an executive strategist at Amazon. Most recently he worked for the NFL Players Association where he created and directed their government relations shop as well as served as legal counsel for the players. His previous roles include special assistant to Florida A&M University (FAMU) president before law school and legal fellow in the US Senate shortly after.
Wiley graduated from KU Law in 1983 and was a decorated track athlete. His relationship with sports and the law runs deep. He utilized KU Law's own Legal Aid Clinic when he challenged the NCAA rules that precluded student-athletes from receiving need-based financial aid in addition to their full-tuition athletic scholarships. His high-profile case led to a change in the NCAA's financial aid rules. He currently serves as president and executive producer of Wiley Sports Management and Media LLC.
Velte joined the KU Law faculty as an associate professor of law in 2018 and was promoted to professor of law and associate dean for faculty in 2022. Her scholarship, which examines the intersection of sexuality, gender and the law, has appeared in law journals, including the Yale Law & Policy Review, Cardozo Law Review and Connecticut Law Review.
"Few other arenas bring together huge swaths of people from different backgrounds. We hope this event reflects the accessible and uniting feature of sports as a tool for social engagement and change," Carter said.
This event is sponsored by The Dru Mort Sampson Center for Diversity and Inclusion. Established in 2019, the center's mission is to foster and promote diversity within the law school community by hosting speakers addressing diversity, equity and inclusion topics.