KU team headed to national moot court finals
---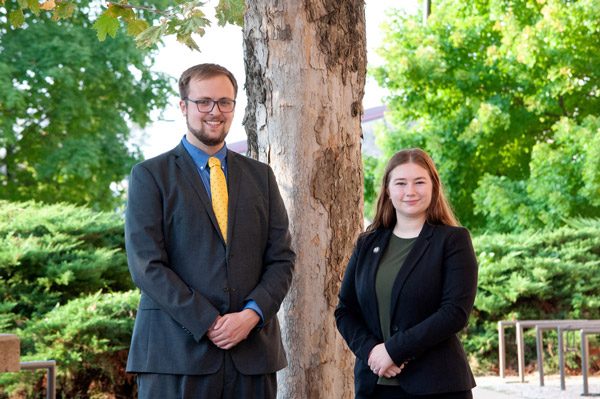 LAWRENCE – A pair of University of Kansas School of Law students will head to New York City this spring to participate in the national round of the 72nd annual National Moot Court Competition.
Third-year law students Grace Tran and Alec Feather bested teams from the University of Oklahoma, University of Missouri-Kansas City and Oklahoma City University during the regionals competition to clinch a spot in the national round. The duo will represent KU Law in New York City at the national finals of the moot court competition in late January.
Feather credited Pamela Keller, clinical professor of law and director of KU Law's Moot Court Program, for supporting the team in its success.
"She coordinated almost 20 hours of virtual practice rounds with student and attorney volunteers and provided in-depth feedback for our argumentation and presentation skills," Feather said. "We are incredibly thankful for her professional expertise and her personal devotion to the moot court program. We are also thankful for those student and attorney volunteers who pressure-tested our arguments at every stage of the process."
In a moot court competition, individuals write an appellate brief and give a mock argument before a panel of judges acting as the U.S. Supreme Court. The KU Law moot court program is ranked 13th in the nation, and has placed in the top 30 nationally for the past six years.
"Grace and Alec were outstanding in both their written and oral advocacy," Keller said. "The oral advocacy piece of moot court tends to get more attention, but a team's success really begins with a strong brief – which is much like appellate advocacy in actual law practice. I am excited for the New York finals but also to follow the law careers of these talented students."
More than 120 schools compete each year in the National Moot Court Competition. The competition, which is sponsored by the American College of Trial Lawyers and the New York City Bar, is one of the most historic and prestigious moot court tournaments in the nation. 
"I am very excited to (hopefully) get to travel to New York and continue representing KU and our region," Tran said. "I'm looking forward to meeting and competing against other law students from all around the country."
Tran is from Wichita. She is the daughter of Elizabeth Stewart, Terri Johnson and Kris Hill. Feather is from Overland Park. He is the son of David and Ginger Feather. 
Read this article on the KU News website.
---
Photo: Alec Feather and Grace Train will represent KU Law in the national round of the 72nd annual National Moot Court Competition.