One Day. One KU: 2022 Annual Report
---
You showed what Jayhawks can accomplish in one day.
This article is from the 2022 Annual Report of the University of Kansas School of Law.
Welcome
One Day One KU 2022
The fifth annual One Day. One KU. fundraising campaign was another one for the KU Law record books. In a 24-hour period, 125 supporters donated $119,445 to KU Law. As an institution, the University of Kansas raised over $3 million for programs and initiatives across all campuses. Since One Day. One KU. launched in 2018, donors have given more than $330,000 to support KU Law.
Your donations supported several initiatives: the Reginald L. "Reggie" Robinson Law Scholarship, which benefits female students interested in public service, and the Free Bar Prep Program
Results of One Day One KU 2022 for KU Law: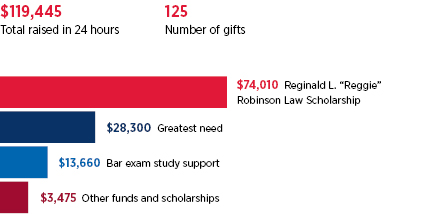 $119,445 Total raised in 24 hours
125: Number of gifts
Gift breakdown:
$74,010 Reginald L. "Reggie" Robinson Law Scholarship
$28,300 Greatest Need
$13,660 Bar exam study support
$3,475 Other funds and scholarships