University to host Tribal Sovereignty Speaker Series in November
---
LAWRENCE — The KU Office of Diversity, Equity, Inclusion & Belonging will host a Tribal Sovereignty Speaker Series over the month of November in celebration of Native American Heritage Month.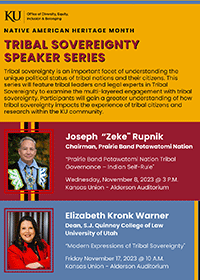 The series will begin with a talk by Joseph "Zeke" Rupnik of the Prairie Band Potawatomi Nation, Mayetta, at 3 p.m. Nov. 8 in the Kansas Union Alderson Auditorium. Rupnik will discuss tribal sovereignty from a governance perspective with his presentation "Prairie Band Potawatomi Nation Tribal Governance – Indian Self-Rule." Rupnik has led the Prairie Band Potawatomi Nation in the role of tribal council chairman as part of the elected seven-member governing body of the nation since 2022 and will continue through 2026.
Elizabeth Kronk Warner, former law professor and associate dean for academic affairs at KU Law, will return to KU to give a talk at 10 a.m. Nov. 17 in the Kansas Union Alderson Auditorium. Currently the Jefferson B. & Rita E. Fordham Presidential Dean and Professor of Law at the S.J. Quinney College of Law at the University of Utah, Kronk Warner will present "Modern Expressions of Tribal Sovereignty," discussing examples of expressions of tribal sovereignty today – such as the recent Supreme Court decision on affirmative action and how tribes are using their inherent sovereignty in innovative ways.
"I am excited to welcome one of our Kansas tribal leaders to KU to share his knowledge with our community to help us understand the government-to-government relationship he navigates as the chairman of his nation," said Lori Hasselman, director of Native American and Indigenous initiatives and Sovereignty Series coordinator. "It is a privilege to welcome back Elizabeth Kronk Warner to KU and to feature her expertise in tribal sovereignty."
Tribal sovereignty is an important facet of understanding the unique political status of tribal nations and their citizens. The series is designed to feature tribal leaders and legal experts in tribal sovereignty to examine the multi-layered aspects of tribal sovereignty in practice. Participants will gain a greater understanding of how tribal sovereignty impacts the experience of tribal citizens and research within the KU community.