2023 Kansas Law Review Symposium
---
2023 Kansas Law Review Symposium
Home is Where the Law Says: 75 Years of Shelley v. Kraemer
Friday, October 13, 2023
9 a.m. - 4 p.m. (Check-in and breakfast from 8:30-9 a.m.) 
104 Green Hall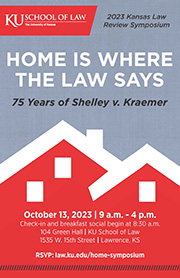 At a most basic level, a person's home should be a source of safety, comfort, and privacy. Home ownership is central to family life and plays a critical role in generational wealth and financial security. Where a person lives is correlated to crime rates, mortality rates, and school success. The freedom to decide where you live has historically been restricted to a small, wealthy, white section of the population. As we've struggled as a nation to ensure greater access for all Americans, the law has played the role of both sword and shield, at times cutting off access to housing for marginalized communities, at other times protecting it. 
In 1948, the United States Supreme Court decided the landmark case Shelley v. Kraemer, a case brought to enforce a racially restrictive housing covenant in St. Louis, Missouri. This type of housing covenant, which kept Black and Asian Americans from living in that neighborhood, was not uncommon, and, in this case, was used to expel the Shelley family from their new home. The Court held for the first time that it was unconstitutional under the 14 Amendment for the judiciary to enforce such racially restrictive covenants. This holding was the most protective national measure yet against racial housing discrimination in the United States, but it stops far short of preventing discrimination itself. After 75 years, this case and the issues that created it are still in play in the United States.
On October 13, 2023, Kansas Law Review will host a symposium on this very issue on KU's Campus, featuring scholars from across the country to revisit Shelley v. Kraemer after 75 years.
This symposium will explore modern legal theory and realities of property rights, housing access, race and segregation, contracts, and the implicit and explicit powers and effects of the law. Through this symposium, we seek to engage scholars writing in diverse areas including property rights, housing rights, constitutional law, contracts, tenancy, access and discrimination, zoning, tax, etc.  
Scholarship associated with the Symposium will be published in a spring 2024 edition of the Kansas Law Review.
Keynote Speaker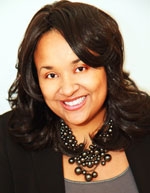 Taja-Nia Henderson
Professor of Law
Dean of Rutgers Graduate School-Newark
Taja-Nia Henderson's scholarship focuses on the historical impact of punishment regimes on property systems in the U.S. She is particularly interested in the legal histories of incarceration (including prisoner release and "reentry") and chattel slavery. In 2016, she was a Fellow at the John W. Kluge Center at the Library of Congress. 
Professor Henderson's work has appeared, or is forthcoming, in Iowa Law Review, N.Y.U. Law Review, Stanford Journal of Civil Rights & Civil Liberties, Lewis & Clark L. Rev., Chicago-Kent Law Review, Columbia J. of Race & Law, the Maryland Law Journal of Race, Religion, Gender and Class, and the Law & History Review.
Speakers
Stephen Clowney | University of Arkansas School of Law | Professor of Law

Randall Johnson | UMKC School of Law | Professor of Law

Rosa Newman-Ruffin | Elon University School of Law | Assistant Professor of Law

Brandon Weiss | American University Washington College of Law  | Professor of Law

Lua Yuille | Northeastern University School of Law | Professor of Law and Business; Associate Dean for Research and Interdisciplinary Education
Cost
The symposium is free and open to the public, but registration is required.
Program Accessibility 
If you require a reasonable accommodation in order to participate in this event, please contact Rebecca Clayton by September 29 at rclayton@ku.edu or 785-864-2388, 771 TTY.
Symposium Issue
Scholarship associated with the symposium will be published in a spring 2024 issue of the Kansas Law Review.
Questions? 
Contact Symposium Editor Libby Rohr at lrohr@ku.edu.
Contact the Kansas Law Review