International legal scholar to discuss post-conflict federalism at KU lecture
---
LAWRENCE - International legal scholar Jens Woelk will discuss post-conflict federalism during the Casad Comparative Law Lecture at the University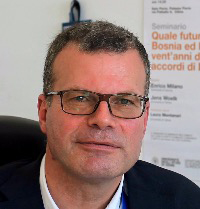 of Kansas School of Law.
Legal scholar Jens Woelk will present "Forced Together, Never Sustainable? Post-Conflict Federalism in Bosnia and Herzegovina" on Tuesday, April 19 at 3:45 p.m. in 107 Green Hall. The public is welcome to attend the free lecture and reception that follows.
Woelk is a professor of comparative constitutional law at the University of Trento, Italy, at the Faculty of Law and the interdisciplinary School of International Studies.
Andrew Torrance, associate dean of international and comparative law at KU Law, said Woelk's timely lecture will provide vital legal perspective on geopolitical events.
"International law is a signal strength of the University of Kansas School of Law," said Torrance. "A jewel in the crown of our international law program is the annual Casad Comparative Law Lecture, made possible by the generosity of retired law Professor Robert C. Casad."
Woelk earned his Ph.D. in legal sciences from the University of Regensburg, Germany and worked at Eurac Research in Bolzano/Bozen at the Institute for Comparative Federalism. Woelk has participated in various projects and missions in the Western Balkans as an expert for the European Union and the Council of Europe. Additionally, he has served as the senior international legal expert on European Union integration matters at the High Judicial Council of Bosnia and Herzegovina. Woelk is an expert in comparative constitutional law and has research interests in federalism/regionalism, comparative constitutional law and European Union law, minority rights and the constitutional transformation processes in Southeast Europe.
The Casad lecture series is named in honor of Professor Emeritus Robert C. Casad, who was on the faculty of the KU School of Law from 1959 to 1997. Casad is internationally known for his scholarship in comparative civil procedure. The inaugural Casad lecture was held in 2008, featuring George A. Bermann of Columbia Law School. Most recently, Roberto Toniatti from the University of Trento lectured in 2019.