KU Legal Aid Clinic, Douglas County DA's Office and Lawrence Public Library to host criminal record expungement clinic
---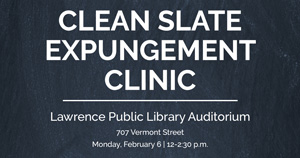 LAWRENCE - The University of Kansas School of Law's Legal Aid Clinic will host a Clean Slate Criminal Record Expungement Clinic this spring in partnership with the Douglas County District Attorney's Office and the Lawrence Public Library. The clinic will take place in person from noon to 2:30 p.m. Feb. 6 in the Lawrence Public Library Auditorium, 707 Vermont St.
"As a public library, we want to expand public knowledge about the expungement process," said Marc Veloz, community resource specialist at the Lawrence Public Library. "A tangible way we can do that is by providing a space for this service and helping get the word out to our community partners."
An expungement seals an arrest record, diversion or conviction from public view, with certain exceptions. The Legal Aid Clinic will provide free legal representation to eligible individuals seeking to expunge records in Douglas County District Court and/or Lawrence Municipal Court.
"Convictions for certain crimes shouldn't be a life sentence," District Attorney Suzanne Valdez said. "Through this opportunity, individuals can access the expungement process for free and remove long-standing barriers to education, housing and employment. We are fortunate to be able to work with the Legal Aid Clinic to provide this service to our community."
The clinic can accept clients with income up to 250% of the federal poverty level. Clients who qualify for Legal Aid Clinic representation but who do not qualify for a waiver of the court's per-case filing fee will need to pay that court fee, but no attorney's fees, as long as they are eligible for services.
After the intake clinic day at the library, clients will need to attend one additional appointment and any required court hearings with their Legal Aid attorney.
"We are excited for our law students to partner again with the District Attorney's Office and the Lawrence Public Library to offer this clinic to individuals with records to expunge in Douglas County," said Melanie Daily, clinical associate professor and director of Douglas County Legal Aid Society Inc. "Criminal record expungement serves an important role in the justice system by allowing qualified individuals to get back into the community and do good work – in their homes, schools, workplaces and beyond. It's a last step in getting their records to reflect not their mistakes, but the progress they have made."
For any questions regarding the clinic and expungement eligibility, contact the Legal Aid Clinic at 785-864-5564.