KU Law graduates outperform statewide bar pass rates in Kansas, Missouri
---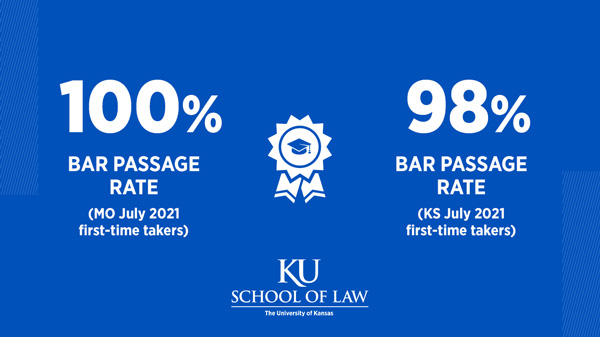 LAWRENCE – University of Kansas School of Law graduates who took the Kansas and Missouri bar exams for the first time in July 2021 passed at rates well above the state averages.
In Missouri, 100% of KU Law graduates who took the Missouri bar exam for the first time in July passed, according to results released by the Missouri Board of Law Examiners. KU Law's 100% pass rate was 16.8% above the Missouri average of 83.2% for first-time test takers.
In Kansas, 98.2% of KU Law first-time test takers passed the Kansas bar exam in July, placing the school 19.3% above the Kansas average. The state's overall first-time pass rate was 78.9%, according to information shared with KU Law administrators by the Kansas Board of Law Examiners.
"We are proud of our recent graduates, who completed law school at a uniquely challenging time and achieved outstanding results on the bar exams in Kansas and Missouri," said Stephen Mazza, dean and professor of law.
"Our students build a solid foundation in the classroom, where they have access to faculty who are nationally recognized for their scholarship and are outstanding teachers," Mazza said. "Students practice skills in clinics, simulation courses and field placements. Those experiences prepare them to succeed on the bar exam and start their legal careers."
Bar passage outcome reports generated by the American Bar Association from previous years are available on the KU Law website. A full report for the 2021 calendar year will be published by Feb. 15, 2022.
KU Law's Free Bar Prep Program offers all students a post-graduation Themis Bar Review course that includes a simulated bar exam, a Multistate Professional Responsibility Exam prep course, a first-year diagnostic exam and access to an on-site bar exam instructor. KU Law graduates who took the bar exam in July 2021 were in the first class to participate in all three years of the Free Bar Prep Program.
Alumni gifts support the bar prep program, making it possible for KU Law to be one of a few law schools nationally to offer a post-graduation bar review course at no cost to students.
"The law school's bar prep program is funded by generous alumni, many of whom experienced the difficulty of paying for a post-graduation course," Mazza said. "They understand the importance of easing a graduate's transition from law student to licensed attorney."
Employment for KU Law graduates has exceeded 90% for the past seven years. Overall employment for KU Law graduates in 2020, the most recent reporting year, was 93.1%, according to data reported to the ABA.
Heather Spielmaker, assistant dean for career services at KU Law, said the Free Bar Prep Program helps set students up for success finding legal jobs. Early employment numbers for the Class of 2021 are encouraging, Spielmaker said. Class of 2021 employment will be reported to the ABA in March.
"The Class of 2021 is already headed toward breaking employment records for KU Law, with graduates landing full-time, long-term legal jobs, jobs at graduation and judicial clerkships at impressive rates," Spielmaker said. "We will be excited to report those numbers when they become official this spring."