KU Law partners with UN to train diplomats on Indigenous issues, conflict resolution
---
LAWRENCE — Students at the University of Kansas School of Law will have a chance to train diplomats on indigenous issues and conflict resolution as part of a new partnership.
The KU School of Law recently signed a memorandum of understanding with the United Nations Institute for Training and Research (UNITAR) to provide skills development training for diplomats at the U.N.
KU Law students and faculty will lead training sessions each semester on topics related to the U.N.'s 2030 Agenda for Sustainable Development and Sustainable Development Goals. The 17 sustainable goals in Agenda 2030 cover issues including eliminating poverty, eliminating hunger, gender equality and quality education.
Students enrolled in KU Law's Tribal Judicial Support Clinic and Mediation Clinic spent their spring semester creating training materials for the partnership. Professor Shawn Watts, who directs both clinics, is leading the project for the school. Watts has led similar workshops for UNITAR for the past four years. 
Second-year law student Samantha Natera said she jumped at the chance to work on the project through the Mediation Clinic.
"When Professor Watts asked what our preference would be in choosing a project, I was 100% sure I wanted to work on the U.N. presentations," Natera said.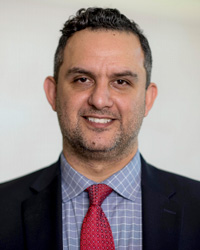 Students worked through the spring semester to create training materials that will help diplomats build institutions with indigenous people in mind. When indigenous voices from around the world are missing from the conversation, diplomatic solutions can be incomplete or unsustainable, Watts said.
"What we're trying to do is make sure that the diplomats at the U.N. have an understanding of how indigenous voices can be represented, and more importantly, that they're really important to sustainable solutions when you're trying to build strong institutions," Watts said.
Before he joined the KU Law faculty in 2018, Watts developed a similar partnership with UNITAR while he was associate director of the Mediation Clinic at Columbia Law School. KU Law's program in tribal law – including the school's Tribal Law & Government Center, Tribal Judicial Support Clinic and Tribal Lawyer Certificate program – put the school in a position to provide specialized training on indigenous issues. Watts is a citizen of the Cherokee Nation of Oklahoma.
The participating students and Watts plan to present the curriculum during future workshops at the U.N.'s offices in New York. They were set to present the first round of workshops in April – those have been put on hold due to the COVID-19 pandemic.
Despite the workshops being postponed, students continued their work. Natera and her classmates communicated through email, text messages and Zoom meetings to keep the projects going. Watts hopes the students will be able to present the training in person when the workshops can resume.
"The students are a partner for designing the curriculum, and I want the students here to be partners in delivering that content as well," Watts said.
Natera, who plans to pursue a career in international law, said the project has deepened her understanding of diplomatic work.
"Doing this work helps us to have a better understanding of how international organizations work and about the work they do," Natera said. "Whenever graduation comes, I will be able to start searching for a job in international law with an insight into how the U.N. develops these projects."