KU Law welcomes Class of 2024
---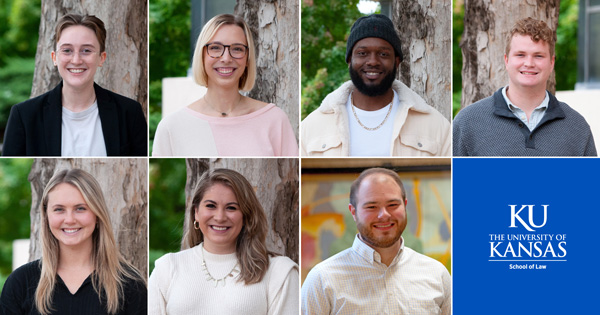 LAWRENCE – The University of Kansas School of Law welcomed the Class of 2024 to Green Hall in August. This year's incoming class includes 123 J.D. students who come to KU Law from 18 states and 58 colleges and universities.
The Class of 2024 sets a KU Law record for the highest combined median LSAT score and undergraduate GPA. The class is among the law school's most diverse and has the highest percentage of female students – 58% – in the school's history. View a full class profile.
Here, meet seven students who shared their reasons for choosing KU Law, their backgrounds and what they hope to accomplish with a legal education.
Meet the students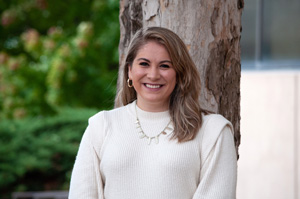 Olivia Almirudis Schneider, of San Antonio, earned her MBA and her undergraduate degree in English from University of the Incarnate Word. As a graduate student, she worked as the director of development and marketing for an animal welfare nonprofit and served on her university's presidential strategic planning committee.
"As a Latina first-generation law student, choosing a law school was a very daunting process, but I chose KU Law because I knew that the faculty, staff and students were committed to my success, personally and professionally," Schneider said. "From my first interaction, the KU Law community made me feel like I fit right in, and the small class sizes, incredible professors and welcoming community make the rigors of law school seem far more manageable."
After graduation, Schneider hopes to practice international business law, working with companies in Central and South America in English and in Spanish.
"I'm excited to be able to positively impact my community through the legal profession," she said.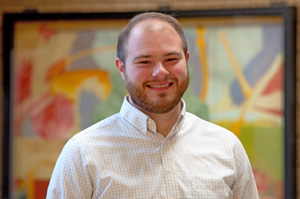 Collin Studer, of Wathena, Kansas, graduated from Baker University with bachelor's degrees in history and piano. He wrote his senior thesis on the early years of the Supreme Court of the United States – a topic that, after in-depth research, he came to appreciate and admire.
"Naturally, then, it was a dream of mine to work at the Supreme Court," Studer said. He had a chance to after graduation, working as a marshal's aide at the Supreme Court for two years before starting a two-year position as the aide to Chief Justice John Roberts.
"Working at the Supreme Court generally and in Chief Justice Roberts' chambers specifically showed me what it means to dedicate oneself to the law and to public service – two goals that are never, or at least shouldn't be, strangers to each other," Studer said.
With family roots in Kansas, Studer knew he wanted to return to the area after working in Washington. When he was a student at Baker, Studer had contacted KU Law Professor Stephen McAllister to ask for guidance as he embarked on a legal career.
"He'd never heard of me; I wasn't even at KU. But he quickly agreed to meet and to share his time and insight with me," Studer said. "When I considered applying, I remembered that meeting and subsequent ones with Professor McAllister, and I thought that there was a good chance that other faculty would be equally committed to teaching students. And happily, I've found that to be true."
Studer is interested in pursuing a legal job in government or appellate work in Kansas after law school.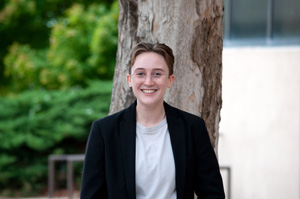 Ellie Beck, of Kansas City, Kansas, graduated from the University of Kansas with bachelor's degrees in Spanish language and women, gender and sexuality studies.
As an undergraduate, they served as president of the ACLU of KU and worked as an archivist for the Spencer Research Library, and studied abroad in Buenos Aires, Argentina. Their senior thesis focused on "the ways in which gender marker ID laws facilitate state-sanctioned violence against Trans communities," Beck said.
"As someone who plans on practicing law in Kansas, KU Law felt like the perfect place to be," Beck said. "The faculty and staff at KU Law support their students in so many different ways, from the Career Services Office to offering free bar exam prep. Law school is no walk in the park and having a school that I knew wanted to see me succeed was extremely important in my decision to attend KU Law."
Beck hopes to use their law degree to advocate for LGBTQ+ legal rights in the state of Kansas. 
"As LGBTQ+ folks in the Midwest, we face unique barriers that often go overlooked at the national level," Beck said. "I am passionate about making my state somewhere that LGBTQ+ people are not only safe, but able to lead peaceful and joyful lives. We owe that to future generations, and we owe that to ourselves."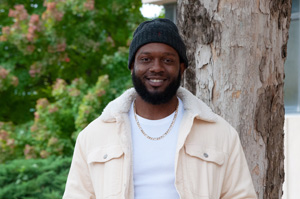 Anthony Leeks, of Wichita, earned his bachelor's degree from KU in business management and leadership. As an undergraduate, he played football for the Jayhawks for two years. Leeks also worked as a law clerk at a Lawrence firm, getting an introduction to legal research, interpreting statutes and working with different areas of the law.
When it was time to choose a law school, Leeks chose KU Law "because I already knew of the great community it possessed," he said.
"I was fortunate to know some KU Law students while I was in undergrad, and they told me nothing but great things about the school. They couldn't have been more correct," Leeks said. "KU was definitely one of the more financially sound options. Nonetheless, I also knew that the quality of education I would receive here would give me the tools to be a great attorney."
Leeks sees himself working in business and transactional law after graduation.
"Assisting businesses with contract disputes or mergers and acquisitions has always been of interest to me. Although, there are so many career paths in the legal field, I don't want to limit myself to one just yet," he said. "In the long run, one of my dreams is to work in the nonprofit industry by creating an organization that raises awareness of furthering education in minority communities."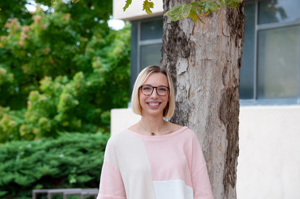 Drew Davis, of Wichita, graduated summa cum laude from Kansas State University with a bachelor's degree in English literature and a minor in Spanish. She served as a pre-law ambassador, held executive positions with her sorority and her English honor society, coached a local swim team, and studied abroad in Spain.
Davis, a fourth-generation KU Law student, said she chose KU "because it immediately felt like home."
"Lifestyle was really important to me, so when I came on my visit last spring, I was struck by how genuinely kind the people were, how great the city of Lawrence was, and how passionately everybody spoke about the close-knit community here," Davis said.
Davis is keeping an open mind about where her path will lead through law school and after graduation.
"I'm really passionate about global perspectives, so I'm excited to learn more about international law in the next few years," she said.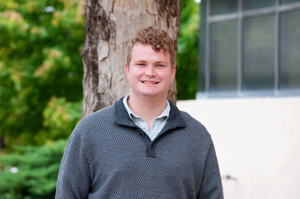 Andrew McLeese, of Prairie Village, completed his undergraduate degrees in vocal performance and history at Miami University in Oxford, Ohio. He appeared in several operas as a student, including The Marriage of Figaro, where he played the title role. 
McLeese said his work as an Affordable Care Act product intern at a financial services firm sparked an interest to go to law school and learn about the ever-changing laws surrounding his work.
With plans to practice in the Kansas City area after graduation, McLeese said he was drawn to KU Law for the school's job placement in the region and its reputation in Kansas City.
"I am interested in practicing for a firm in the labor and employment field because that is what my work experience has been in," McLeese said. "However, I am going through 1L year with an open mind and will pursue any interests that could arise from my courses or other career exploration events."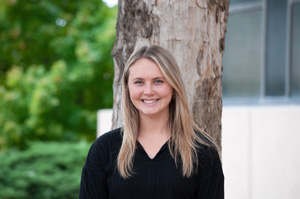 Hailey Reed, of Topeka, earned her bachelor's degree in business from KU, where she played on the Kansas Jayhawks softball team for two years after transferring from University of the Pacific. As a student athlete, Reed served on the Student Athlete Academic Committee and made the Academic All-Big 12 First Team in her senior year.
After transferring undergraduate universities, Reed "was in love with Lawrence and the diverse, energetic and accepting Jayhawk community," she said. When she got an acceptance call from KU Law, she was impressed by "how KU Law seemed to value myself and what I can bring to law school."
"In my conversations with current students and faculty, there was an extremely evident sense of comradery and support that other law schools did not show me," Reed said. "My time here so far has proven to me that my intuition was correct, and I cannot wait for the rest of my time here at KU Law."
After completing her J.D., Reed is interested in pursuing a career in corporate or international law. No matter which practice area she chooses, Reed wants to be a future resource for Jayhawk athletes considering law school.