Meet the KU Law Class of 2025
---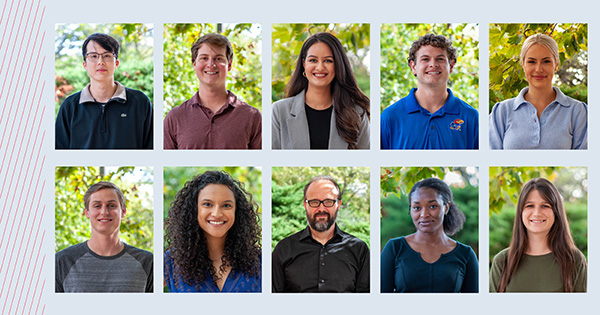 The University of Kansas School of Law welcomed the Class of 2025 to Green Hall in August. This year's first-year class is made up of 137 students from 26 states and 73 undergraduate universities. 

The class of 2025 sets a KU Law record for the highest combined median LSAT score and undergraduate GPA. This is the second year in a row the incoming class has topped this mark. Visit the KU Law website for a full Class of 2025 profile. 

Meet 10 students from the Class of 2025 and learn their backgrounds, goals and reasons for choosing KU Law.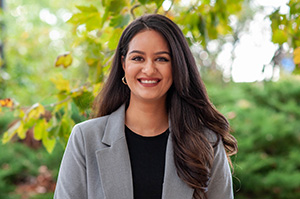 Namisha Ajit is from Panama City, Florida. Ajit is a first-generation Asian American and the first in her family to attend law school. She attended the University of South Alabama and studied biology and psychology. Ajit was a senator for the Student Government Association, a member of the Alpha Omicron Pi sorority and a volunteer. She also worked in pharmaceuticals and at an outpatient internal medicine clinic before coming to KU Law. 

"After being admitted to KU Law, I was given the opportunity to observe a class and tour Green Hall with a KU Law Ambassador. Several professors approached me during my visit to discuss my legal interests, background and journey to the Midwest. I was met with genuine care for my success and action steps on how KU Law's resources can aid me in accomplishing my goals," Ajit said. 

After law school, Ajit hopes to pursue a career in transactional law with an international focus. 

"It's tough to say exactly how I see myself using my degree so early in my career, but I do know that whatever I do with it, I wish to pursue a career with a significant impact and purpose," Ajit said.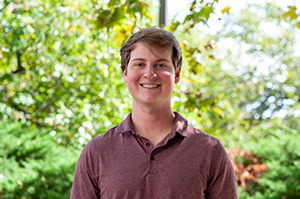 Andrew Murphy is from Overland Park. He attended the University of Kansas and studied finance and philosophy. During his time as an undergraduate student, he worked part-time for a small law firm and was a member of Phi Alpha Delta, Investment Club and was a teaching assistant for a business law course. 

"I ended up choosing KU Law because of the school's reputation, affordability and proximity to where I want to practice the law," Murphy said. 

After law school, Murphy hopes to pursue a legal career in business law with a focus on financial transactions.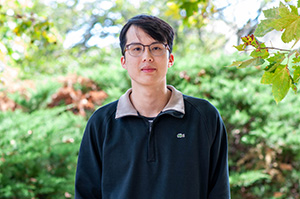 Quan Nguyen is a first-generation college and graduate student. He is from Wichita and attended Washburn University for his bachelor's degree in political science. At Washburn, he participated in debate and was a nationally ranked debater. 

"An outstanding bar passage rate, employment numbers and regional reputation attracted me to KU," Nguyen said. "But it wasn't the statistics that ultimately led me to choose KU, rather it was the faculty who were extremely supportive of me throughout the entire admissions process. From the initial application to the acceptance phone call, to scholarship interviews, the faculty showed that they truly cared about the success of their students."

After graduation, Nguyen is interested in working in civil litigation in Topeka or Wichita.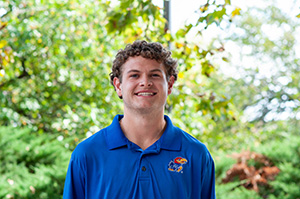 Mason Stewart is originally from Arlington, Texas. Stewart chose to participate in the LEAD program and earned a philosophy degree from the University of Kansas in just three years before coming to KU Law. He has experience as a law clerk and he was also a member of the Alpha Sigma Phi fraternity. 

"A large part of the reason I chose KU Law was the opportunity to join the LEAD program out of high school," Stewart said. "I was also very intrigued by the low student-faculty ratio at Green Hall because, in my opinion, a learning environment is much more effective when professors are accessible and happy to answer student questions. Lastly, KU Law's standing as one of the best 'value' law schools in the country was extremely important to me as a low-income out-of-state student." 

After law school, Stewart plans to find a career in sports or entertainment law working as an agent. He also has interest in criminal defense and family law paths and hopes to provide top-tier legal services to low-income clients who have a dire need for good legal representation.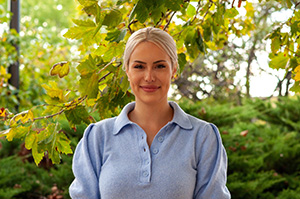 Alexandria Vazquez is from Santa Barbara, California. She attended Westmont College and studied business and economics as well as studio art. After her undergraduate school, she moved to Barcelona, Spain, and taught English to Catalan children. Before starting law school, she was also a surgical coordinator for two orthopedic surgeons in California. 

"When I visited KU Law for the first time, I was extremely impressed by the organization of the faculty and staff. They made me feel welcome and ensured me I was in the right place for the next chapter of my life. Also, Lawrence is a very charming, quaint college town!" Vazquez said. 

Vazquez is interested in health law and is looking forward to exploring that interest in her years at KU Law.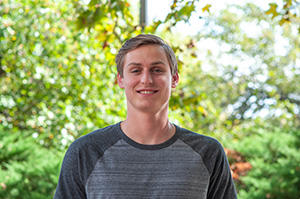 Easton Hunt is from Overland Park. He attended the University of Alabama for his undergraduate degree and studied economics. In Alabama, he worked for a staffing firm as an intern. He also served as the diversity, equity and inclusion officer for his fraternity. 

"I chose KU Law because I wanted a reputable and affordable legal education that was close to friends and family," Hunt said. 

After law school, Hunt would like to work in criminal law to help foster a more equitable criminal justice system. 

"I plan to use my law degree to positively impact my community," Hunt said.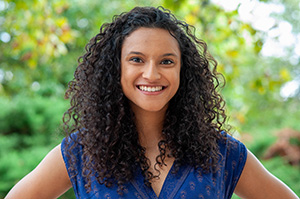 Israel Nelson is from Gastonia, North Carolina. She attended the University of North Carolina at Chapel Hill, where she studied international politics and German language and culture. In undergrad, she studied abroad in Switzerland. Before coming to KU Law, she worked as a nanny and as a paralegal at a family law practice. 

"I chose KU because after living in Lawrence for a few years post-college, I decided I really enjoyed the area and wanted to be here a bit longer. The fantastic financial aid also definitely helped things!" Nelson said.
 
After law school, Nelson hopes to work in international trade law, but is still figuring out her exact path and keeping an open mind.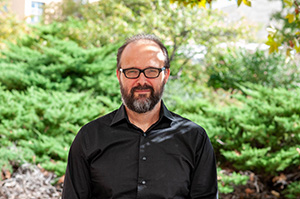 Joshua Lollar is originally from Kansas and was raised in Lawrence and Wichita. Lollar earned a bachelor's degree in English from Kansas State University, a Master of Divinity from St. Vladimir's Orthodox Seminary in New York, and a doctoral degree from the University of Notre Dame. Before KU Law, Lollar served as a religious scholar and priest in the Eastern Orthodox Church. He also was a lecturer at KU. He is married and has five children.

"After working abroad in Ethiopia from July 1999 to May 2000, my wife and I moved to Lawrence to sort out our next steps. We then moved to New York for my divinity training and then to Notre Dame for my Ph.D. Whiel we enjoyed everywhere we lived, we hoped to be able to find some way to move back to Kansas, and to Lawrence in particular. In 2011, I was assigned to the local Orthodox parish and began teaching religious studies at KU. We both love living and raising our children in this community. Staying here for law school was the natural choice," Lollar said. 

After law school, Lollar hopes to do a judicial clerkship and see where that leads. He is interested in the public service aspect of legal advocacy and is interested specifically in environmental law. He also is interested in constitutional law and legal scholarship.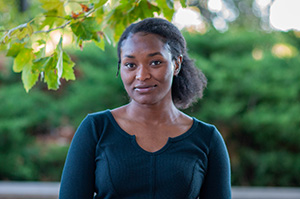 Tuyishime "Flo" Florance is from Des Moines, Iowa. She attended Simpson College where she earned a degree in criminal justice and human rights as well as a minor in women and gender studies. She was a member of the pre-law society, a Wesley Scholar and was in Omicron Delta Kappa. She also worked as an intern in the Polk County Juvenile Drug Court and for Youth Homes of Mid-America. 

"I chose KU because I wanted a school that cared about me, challenged me, and offered me a space to grow," Florance said. 

Florance hopes to use her law degree to give children and athletes a fighting chance against injustice. She wants to work with juveniles and offer them resources to succeed within their community. Additionally, she has an interest in helping women athletes gain equal representation and treatment within sports.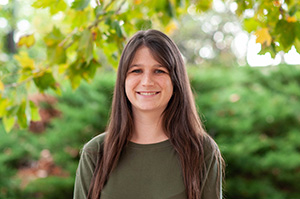 Reagan Hoskin is originally from Pittsford, Illinois. She attended Kansas State University and earned a degree in agribusiness. She did her first bit of undergraduate at a community college and while she was there, worked at a law firm. This is what sparked her interest in law. In undergrad, she also worked as a sales and marketing intern. 

"I chose KU Law for several reasons," Hoskin said. "The number one reason is that KU allows me to tailor my education with their joint degree options and certificates. It is a valuable education at an affordable price. I also appreciated the faculty and students that I met during the decision process. Everyone was friendly and inviting, I always had someone to turn to ask questions." 

Hoskin is exploring what she would like to do with her law degree and still navigating where her path will lead after KU Law.