Law professor to serve as virtual visiting scholar at Emory
---
LAWRENCE — University of Kansas School of Law Professor Lua Kamál Yuille will serve as the inaugural virtual visiting scholar at the Vulnerability and the Human Condition Initiative, which is based at Emory University in Atlanta.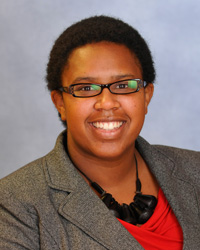 The Vulnerability and the Human Condition Initiative is an academic space for scholars to research the vulnerability of human beings and their reliance on social relationships and institutions.
"Vulnerability is a part of my daily work," Yuille said. "I'm really excited to get to spend a sustained amount of time focusing on that and turning around some of my own scholarship on vulnerability theory."
Yuille is an interdisciplinary scholar whose work connects property theory, economics, business law, critical pedagogy and group identity. As a visiting scholar at the Vulnerability and the Human Condition Initiative, Yuille will examine how a vulnerability framework can be applied to the concepts of property and business enterprises.
In her scholarship, Yuille aims to address how property shapes identity and community at a structural level. 
"I believe that our political system has made the institution of private property the default way we expect people to respond to their innate vulnerability," Yuille said. "I'm really excited about laying that out."
Additionally, Yuille will research the role of the corporation in resilience. 
"I am really interested in understanding the role that the corporation plays in protecting us and informing our identity," Yuille said.
Yuille began her role as a visiting scholar Jan. 11 and will continue in the position until August. In addition to her research on vulnerability theory, Yuille will participate in workshops and conferences with academics from a variety of fields.
The virtual aspect of the visiting scholar position appealed to Yuille because it gave her an avenue to explore scholarship without having to move her family across the country.
"It allowed me to maintain my life at KU while still pursuing this exciting opportunity," Yuille said.
Yuille will continue to teach at KU Law during the spring 2021 semester and incorporate her vulnerability theory research into the material she teaches law students.
Yuille joined the KU faculty as an associate professor of law and an affiliate faculty member of the Center for Latin American & Caribbean Studies in 2013. She was promoted to tenured law professor in 2019.