Law professor named co-principal investigator in inaugural year of digital storytelling grant project
---
LAWRENCE – Associate Professor Najarian R. Peters of the University of Kansas School of Law has been selected to be one of two lead co-principal investigators in the inaugural year of a three-year, $1,478,000 grant from The Andrew W. Mellon Foundation to support "Stories for All: A Digital Storytelling Project for the Twenty-First Century," led by the Hall Center for the Humanities at KU.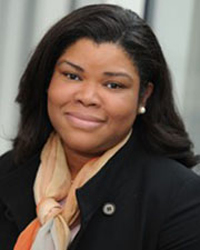 The grant will support over 40 KU and community storytelling projects. Professor Peters' project focuses on Black and Native American families who home educate their children outside of traditional K-12 environments. Her work will highlight the variety of options available to families and the jurisprudence of child privacy at the intersection of racial marginalization and educational opportunity.
"I began this research over three years ago in 2018 pre-pandemic," Peters said. "I am framing Black and Native American home education as child privacy praxis and a point of departure for jurisprudential inquiry. My analyses center harm intelligibility, self-determination, and restorative justice."