Professor testifies to U.K. House of Commons on human rights
---
A KU Law professor recently testified to the House of Commons of the British Parliament. Raj Bhala, Brenneisen Distinguished Professor, testified to the House of Commons International Trade Committee about the use of free trade agreements to advance the rights of women and LGBTQ+ individuals.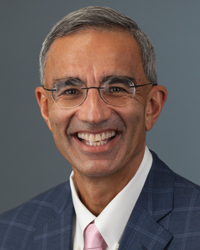 Bhala spoke to members of Parliament during a session focused on human rights, as the House of Commons considers whether to pursue an FTA with the Gulf Cooperation Council. The GCC consists of Bahrain, Kuwait, Oman, Qatar, Saudi Arabia and United Arab Emirates. 
The Parliamentary Committee contacted Bhala after reading his 2019 article on the advancement of women's and LGBTQ+ rights through FTAs. Cody Wood, L'17, co-authored the article. 
Bhala's service at the international level also includes two senior leadership and executive positions with the International Bar Association. He serves as the diversity and inclusion officer for the International Trade and Customs Law Committee, and the liaison for the IBA's Academic and Professional Development Committee to the Latin American Regional Forum. Founded in 1947 and based in London, the IBA has over 80,000 members.
Another article of Bhala's attracted attention. In a major wire transfer dispute, Essilor International SAS v. J.P. Morgan Chase Bank, the U.S. District Court for the Southern District of New York cited Bhala's 1990 article, "The Inter-Relationship of Article 4A with Other Law," published in Business Lawyer and co-authored with Thomas C. Baxter, Jr.