Two Jayhawks Selected for Douglas County Legal Diversity Fellowship
---
LAWRENCE - Two University of Kansas School of Law students have been selected as the first fellows for the new Douglas County Legal Diversity Fellowship. Helen On, third-year law student, and Dahlia Denton, second-year law student, will be working with local businesses in Douglas County during the 2023-2024 academic year.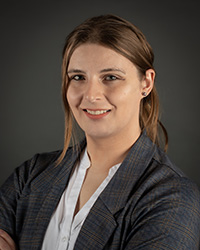 During this fellowship, On and Denton will work to improve their understanding of a diverse body of legal practice and support the work by attorneys at Stevens & Brand, L.L.P., and the Douglas County District Court.
"Programs like the Douglas County Legal Diversity Fellowship are important because they give people like myself a seat at the table and a chance to prove ourselves," Denton said. "I think it's especially poignant to give a transgender person like myself this opportunity. With all the legislation aimed at dehumanizing and delegitimizing my existence in this state and others, programs such as this one give me the chance to be visible and say, 'I'm not going anywhere. I exist and deserve to do so peacefully like everyone else.'"
Denton is from Derby and recently served as the president of the Trans Law Student Association. On, from Lawrence, is a member of the Asian Law Student Association.
"This fellowship and other programs like it address issues of racial biases in the legal profession, ensure equity in our legal system and center experiences from historically marginalized populations," On said. "They play a role in removing barriers to entry by strategically positioning diverse law students, like me, into experiences that will help students flourish within the profession."
The fellowship was created in collaboration with local law firms, businesses and courts in Douglas County. It is a yearlong paid internship for diverse KU Law students to do legal work with both a private and public employer in the county.
"The DCLDF is a unique opportunity to, first and foremost, provide valuable practical experience for law students from underrepresented populations, which we hope will foster greater diversity of backgrounds, experiences and viewpoints in our legal community," said Brad Finkeldei, Stevens & Brand L.L.P. managing partner. "We are excited to partner with KU Law for this worthy cause and are grateful for our sponsors' support."
Jordan Carter, lawyering skills professor and member of the diversity, equity, inclusion and belonging committee, said she hoped this fellowship is just the beginning of growing opportunities to support KU Law's diverse student body.
"We are excited to partner with employers in our community who are as invested in supporting diverse students as we are," Carter said. "This fellowship is a way for students to deepen their roots in Lawrence and for local employers to get to know some of our excellent and eager law students."