KU Law has yet another successful moot court season
---
LAWRENCE - Every year KU Law's various moot court teams travel the country participating in a wide range of moot court competitions. Each team is coached by KU Law alumni and professors of all focuses. The 2022-2023 moot court season has been another successful one with many teams putting in the hard work and fighting for their place among the champions.
Moot court madness
KU Law started the new year strong at the Hunton Andrews Kurth Moot Court National Championship hosted at the University of Houston and sponsored by the Hunton Andrews Kurth law firm on January 28-29, 2023. The competition is invitation only to the 16 highest-performing moot court programs in the country. KU Law was invited because of the Moot Court Council's successes last academic year, which resulted in a #14 program ranking.
After six grueling rounds, Emily Depew and Jessica Kinnamon, 3Ls, outperformed that rank by progressing to the final four.
"This is the equivalent of March Madness," Pamela Keller, professor of law and moot court director, said, "Jessica and Emily were in a national championship tournament with only the best teams in the country. and they made it to the Final Four. If we had an Allen Fieldhouse for moot court, they would have a banner in the rafters."
Both students received a scholarship award for their semi-final finish, and Depew received the award for Third Best Oral Advocate in the competition.
"[Depew and Kinnamon are] amazing representatives for the Shook, Hardy & Bacon Center for Excellence in Advocacy," Keller said, "Jayhawk lawyers everywhere would be proud of their performance."
Three-peat champions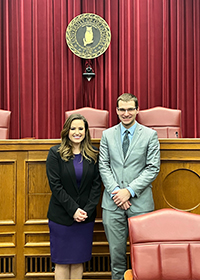 For the third consecutive year, a University of Kansas School of Law team won first place at the National Native American Law Students Association (NNALSA) Moot Court Competition held on Feb. 25-26, 2023, at the University of Oklahoma School of Law.
KU Law was represented by two teams this year: Jade Kearney, 2L, and Alex Valin, 3L; and Emily Depew, 3L, and seasoned NNALSA moot court veteran, and Chris Birzer, 2L. Both teams advanced to the Elite Eight with Depew and Birzer pulling out ahead to take home the trophy.
"Emily Depew completed what I believe to be a first," Kevin Barnett, 3L, and secretary of NNALSA said. "She has won the competition all three years of her law school career. I can't speak highly enough of Emily's talents as an oralist in this competition; now, she is the undisputed three-peat champion of the NNALSA Moot Court Competition."
Professor Shawn Watts credits not only the hard work of the students but also the alumni who coached them.
"It is impossible to overstate what incredible alumni coaches we have in Nancy Musick and Chris Carey," Watts said. "They drive the team's preparation and success. And, of course, our students show year after year that they are top-notch appellate advocates in Federal Indian Law."
"KU Law's success in winning the last three NNALSA moot court national championships comes down to three factors: faculty and alumni consistently putting in the time judging practice rounds, dedicated students spending countless hours perfecting arguments and an exceptional moot court program leader in Professor Keller," Depew said. "I was fortunate to have three outstanding partners each of the last three years in Zach Kelsay, Doug Bartel and Chris Birzer as well as the support of Professor Watts."
Professionalism and collegiality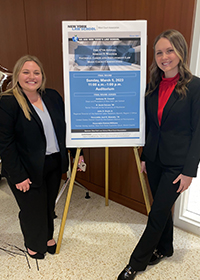 Continuing the trend of success, Hailey Reed and Karlie Bischoff, 2Ls, competed in the Wagner National Labor & Employment Law Moot Court Competition at New York Law School in early March. They finished the octofinals as the top seed and kept that seed all the way to the final round.
"We were proud to represent KU Law all the way to the final round of the Wagner Moot Court Competition, especially given how prepared and talented our fellow competitors were," Reed and Bischoff said in a joint statement. "This experience has only increased our appreciation and respect for our coaches, professors and classmates who invested so much time and energy into preparing us for the competition. We are excited to continue representing KU in future competitions during our 3L year!"
Joyce Rosenberg, professor of law and coach of Reed and Bischoff, says the final round was one of the best she had ever heard and that both the KU and Loyola-Chicago team they were up against gave the judges a difficult decision in the end.
"As a coach, I am tremendously impressed with Hailey and Karlie's professionalism, diligence and team work," Rosenberg said. "They put in the hours upon hours of work on their brief and on practice rounds. And I am proud that, in true Jayhawk spirit, many faculty and alumni volunteered to work with them, judge practices and give detailed feedback."
Bringing home the cup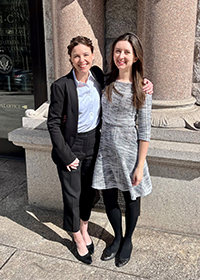 Finally, two more students, Kat Girod and Helen Phillips, 3Ls, brought home the Shapero Cup by winning the Regional Bankruptcy Moot Court Competition in Detroit. They then continued to the national rounds in New York City in the 31st Annual Duberstein Bankruptcy Moot Court Competition where they advanced to the Elite Eight.
"Kat and Helen work hard and produce consistently excellent results," Professor Stephen Ware said. "Most lawyers never get a chance to argue before a U.S. Court of Appeals judge, but Kat and Helen have now already done so with top-notch results."
Girod also took home the award for Best Oral Advocate in the Shapero Competition. Sixth Circuit Judge Raymond Kethledgenoted Girod's "palpable mastery of the material" and "exemplary" performance. Girod credited Ware for supporting her and Phillips in their success.
"Professor Ware did an excellent job helping us prepare," Girod said. "He helps us schedule practice rounds with bankruptcy practitioners which is an invaluable component of our preparation."
In a moot court competition, individuals write an appellate brief and give a mock argument before a panel of judges acting as the U.S. Supreme Court. KU Law's moot court program is currently ranked #14th in the nation based on 2022 rankings from the University of Houston Law Center and has placed in the top 30 nationally for the past six years. Additional highlights from the 2022-2023 moot court competition season so far include:
Rachel Henderson, 2L; Haley Koontz, 2L; and Caitlin McPartland, 3L, participated in the National Environmental Law Moot Court Competition on Feb. 22-25, 2023. A KU Law advocate was recognized as best oralist in each of the three rounds of competition; Henderson in one and McPartland in two.
Emma Bishop, 2L; Aylin Jamison, 2L; Joan Lee, 3L; Justin Shock, 2L; Brien Stonebreaker, 3L, participated in the Jessup International Law Moot Court on Feb. 25-26, 2023.