The camp libraries of WWI and WWII
---
This article is from the fall 2022 issue of Hearsay, the semi-annual newsletter of the Wheat Law Library.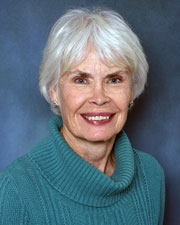 In 1917, American Library Association (ALA) established the Committee on Mobilization and War Service Plans (later the War Service Committee). The program, known as the "Library War Service," was directed by Herbert Putnam, Library of Congress, and later by Carl H. Milam. In 1942, the "Victory Book Campaign" continued to send millions of books and periodicals to American troops. The following article offers a brief look into both wartime programs.
Camp libraries WWI
The Library War Service established 36 "camp libraries" at training camps and military bases. The Service also funded 1,100 library workers to staff camp libraries and military hospitals. The camp libraries were simple wooden buildings which supplied space for 10,000 volumes and about 200 readers. National campaigns supplied books, magazines and board games to the training camps, hospitals and small military encampments both here and abroad.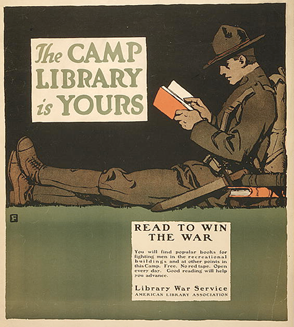 The libraries were a place for soldiers to gather and enjoy a touch of home and civilization. In Kansas, the Camp Funston librarian reported sacks of magazines arriving at the rate of 20 sacks per week in October, growing to five times that number within months. Library War Service books were not just used for entertainment and diversion. They also held information required for effective military operations and helped prepare soldiers socially and intellectually for life after the war.
During both World War I and World War II, camp libraries were set up everywhere at military bases in the U.S. and Europe. The camp libraries were originally established by the ALA but at the end of WW I the ALA transferred control to the war department. More than 1,000 librarians volunteered to travel overseas to care for the libraries during WW I and the numbers increased during WW II.
Camp libraries WWII
During WWII's Victory Book Campaign the ALA, along with the Red Cross and USO, sent 17 million books and periodicals to American troops. Thousands of volunteers across the country sorted and shipped the donations. Those donations were used to supply U.S. military libraries. All books on ciphers, explosives, and invisible ink were to be removed from libraries. Anyone who requested such materials had their name put on a list to give to the FBI for questioning. 
ALA sent more than 10 million books to the armed services camps during the Victory Book Campaign between 1942-43. The reading materials were sent to the Army, Navy, American Red Cross, POWs, and the Japanese-American internment camps in the United States.
American camp libraries offered a center for public information and technical education. In Louisiana, servicemen used the library to increase their knowledge of mathematics and economics. A Servicemen's Center, run by volunteers in the Chicago Public Library, was extremely popular with their collection of over 5,000 books. Other libraries catered to the visiting troops by supplying music and local tourist information.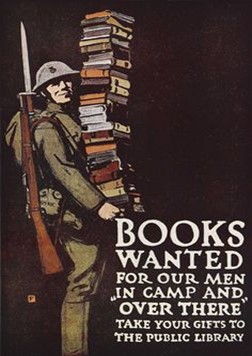 During World War II a group of archivists, librarians, and scholars went abroad to collect books and documents to help the cause. Books collected included enemy texts. They followed the advancing armies to discover and obtain records, and they seized Nazi materials from schools and bookstores. 
As library facilities became available, individual requests for books came in from every grade of military service. The work of the mailing department was first continued by two people, Mr. Stevenson and a clerk. However, they soon discovered a need for a whole roomful of clerks, typists, and trained librarians to manage the onslaught of requests!
The value of these libraries was immeasurable. They were there for both soldiers and civilians alike, a true testament to the constant need for libraries.
Camp librarians
While most camp librarians were volunteers, others were paid a small salary—$1,200 a year in addition to subsistence, an amount less than a second lieutenant receives. A paid assistant was provided with subsistence and similar provisions are made for janitor service and volunteers' expenses. The total cost was about $250 per month for each camp library. More men were needed for this Camp Library service since the employment of women was not allowed by the War Department rules. However, women were allowed to do library-related volunteer work.
The camp librarian uniforms for women consisted of a skirt suit of "forest green" wool, with four pockets on the coat, a fabric belt, and a seam down the center of the skirt. The men librarians wore uniforms in the same style as the women: a coat with four pockets, breeches, leggings and coat belt of tan leather.
Looking back at the nationwide support for American troops in the two world wars, we see Americans in all walks of life making patriotic contributions and sacrifices — including librarians!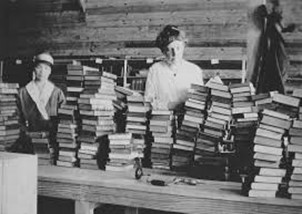 Welco