Director's Corner: Fall 2022
---
This article is from the fall 2022 issue of Hearsay, the semi-annual newsletter of the Wheat Law Library.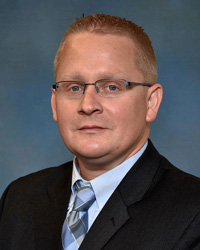 Energetic students and harried professors have returned to Green Hall for the fall semester, enlivening the Wheat Law Library with an atmosphere of enthusiasm. The students of KU Law are catching up with familiar faces and forging new friendships that will endure for decades.  Animated conversations recount everything from the challenges of Socratic questioning and summer internships to the Jayhawks' latest improbable victory on the football field. Our engaged and dedicated law school community inspires us each day and reminds us that our work in the law library provides important support for students and faculty who are pursuing lofty goals and undertaking challenging projects.

While our mission of supporting scholarly pursuits remains unchanged, we have many recent developments to share with our readers in this issue of Hearsay. Longtime Circulation & Serials Manager Jeff Montgomery, renowned by generations of law students as a friend at the front desk, retired this summer after more than 46 years of dedicated service. We wish Jeff an enjoyable retirement and thank him for his many contributions, including the Barber Emerson Bluebook Relays that have become a cherished tradition at KU Law. We also wish a fond farewell to Brenna Truhe as she pursues a promising new opportunity as a firm law librarian.  Brenna served admirably as Technical Services Manager since 2019 and resiliently guided our technical services efforts through the tumultuous times of the pandemic. We wish Brenna well and thank her for the expertise and collegiality she contributed throughout her time at the Wheat Law Library.

As we move forward this year, we are pleased to welcome Laura Maloney as our newly hired Circulation & Serials Manager. Laura is a KU graduate who brings valuable experience, a dedicated approach to student services, and a lifelong appreciation of libraries to the position. We hope you will enjoy getting to know more about Laura, who is also currently pursuing an MLS with Emporia State University, in this issue and that you will extend her a warm welcome to KU Law. This issue of our newsletter also offers a chance to learn more about Melissa Doebele, who was recently promoted to the Technical Services Manager position. Melissa has been a valuable member of our team for many years and now has expanded responsibilities that correspond perfectly with the expertise and experience refined in her previous role as Library Assistant. Brief "Q & A" highlight features with both Melissa and Laura can be found in the pages that follow.

Additional features you can find in this issue include an insightful article from Assistant Director Pam Crawford on the camp libraries of World War I and World War II, along with an update on the first-year legal research program from Assistant Director Blake Wilson. We hope these articles provide an enjoyable change of pace from case law and statutes, and that they offer insight into some of the initiatives underway this year in the Wheat Law Library. While there is considerable change detailed here, our dedication to service and collaboration is unwavering. This is largely a reflection of our remarkable staff members and their consistent commitment to supporting the information needs of our primary patron group. As always, we look forward to seeing you in the library and working to achieve our shared goal of research excellence with the renewed sense of purpose that accompanies the new academic year.
Christopher L. Steadham, JD, MLIM
Wheat Law Library Director
 
Welcom