Overview
Each year, the University of Kansas School of Law and the Kansas City Metropolitan Bar Association Media Law Committee host the Media and the Law Seminar, along with other local events. The programs facilitate and encourage dialogue about the latest legal issues and developments in media, law and technology.
Follow the Media and the Law Seminar on Facebook for the latest updates.

"Upside Down: First Amendment in Flux?"
35th Annual Media and the Law Seminar
Thursday and Friday, April 20-21, 2023
InterContinental Kansas City at The Plaza, Kansas City, MO
More than ever before, journalists and media lawyers are confronted with legal arguments and judicial opinions threatening to turn well-established First Amendment principles upside down. Truth may no longer be  defense against allegations of defamation. Social media platforms may no longer enjoy editorial control over their own content. Government agencies, not journalists, may be permitted to turn open record laws against the public those laws were meant to serve.
This year's 35th annual seminar highlights some of the most important issues journalists, lawyers, and insurers must overcome to traverse an increasingly murky First Amendment landscape. Topics include how journalists should respond to subpoenas from government agencies investigating matters in the public interest; how journalists affiliated with publicly funded educational institutions balance competing professional obligations; why the First Amendment does not protect lawyers who make false statements in court; how media organizations should cover the "Big Lie"; and more.
Featuring:
Nuts & Bolts: Everything a new lawyer needs to know about counseling a newsroom and being a media lawyer, but is afraid to ask
Witness for the Prosecution? Reexamining journalists' cooperation with authorities
Journalists affiliated with educational institutions under attack
Lying, lawyers, lying lawyers, and liar libel: an ethical guide and mashup
Internet law in flux: the future of online speech as section 230 and state social media laws face challenges
Liars who lie and naming names
Early Bird BOGO: To help us celebrate our 35th anniversary, register during January, February, or March and get a free registration for a new colleague or associate in your company or firm with less than 5 years of professional experience. Please contact Pam Hicks at 913-897-8775 or phicks@ku.edu to get the registration code.
Media and the Law Seminar Event Information
Seminar Location
The InterContinental Kansas City at The Plaza, 401 Ward Parkway, Kansas City, Missouri
Lodging
A block of rooms has been reserved at the InterContinental Kansas City at The Plaza, 401 Ward Parkway, Kansas City, Missouri.
Rooms will be released at 5 p.m. (CST) on March 21, 2023. After that date, room availability and rate cannot be guaranteed. For the special seminar rate of $179, the seminar booking link to reserve online or call 816-756-1500 to ask for reservations. Mention that you are attending the Media and the Law Seminar.
Hotel booking link: Media and the Law Seminar
How to use the hotel booking link:
Select the hyperlink. It will pull up the hotel's website. Select the "book now" button at the top of the screen.
Type in the dates of your stay and the website will give you the group rates and room availability.
Location & Parking
The InterContinental Kansas City at The Plaza offers valet parking for overnight hotel guests for $30 a day or self-parking for $20 a day. Rates are subject to change. For those not staying at the hotel, parking is free for the day.
Sponsors
The Kansas City Metropolitan Bar Association Media Law Committee and University of Kansas School of Law
Contributors
AXIS Insurance
Ballard Spahr LLP
Davis Wright Tremaine
Fox Rothschild LLP
Greenan, Peffer, Sallander & Lally LLP
Haynes Boone LLP
Katten Muchin Rosenman LLP
Klaris Law PLLC
KU School of Law Media, Law and Technology Program
Lathrop GPM
Miller Korzenik Sommers Rayman LLP
Thomas & LoCicero LP
Coordinated by
University of Kansas Jayhawk Global
CLE Credits
A total of nine CLE credit hours are available, including 2 hours of ethics, have been approved by the Kansas CLE Commission, as well as in Missouri, New York, and California. The seminar support staff will provide on-site assistance to attendees who plan to apply for CLE credit from other jurisdictions which may compute credit hours differently. Please check with your state's CLE commission to see how many CLE credit hours are approved for the seminar.
Schedule and Panel Descriptions
Download schedule and descriptions (pdf)
Thursday, April 20
4:00-5:45 p.m. | Bonus Session - Nuts & Bolts: everything a new lawyer needs to know about counseling a newsroom and being a media lawyer, but is afraid to ask
This program is jointly sponsored by the KCMBA, and the Media, Privacy, and Advertising Law Committee of the ABA/TIPS - 2 hours CLE (pending approval)
New lawyers face many challenges when starting out, and this session is designed to give attendees a leg up by providing practical advice about how to counsel a newsroom, and more broadly, the observations of experienced practitioners gleaned from their careers representing the media. Among other things, the session will feature senior members of the bar and their perspectives and advice regarding life in media law, where every case is in the news and is often complicated by the involvement of a celebrity litigant. It will also help new lawyers gain confidence in advising newsrooms, by providing practical tips from seasoned media lawyers, including the various pitfalls of doing so, and advice on how to move quickly and accurately to ensure that the publisher is protected. In this session, attorneys will learn about:
Tips regarding legal resources to keep at hand for quick and accurate advice to newsrooms
The handling of confidential source requests
Evaluation and response to government inquiries into sources and reporters' notes
Ethical concerns that can arise when counseling newsrooms on the fly
Challenges posed with respect to the venue when representing a local or national celebrity
Advice for interacting with the press when in litigation with a high-profile individual
Experience with respect to dispositive motions when litigating a case involving a high-profile individual, particularly when in a venue that rarely sees such cases.
Moderator:
Barbara Wall, retired
General Counsel
Washington D.C.
Panelists:
Jean Maneke, attorney
Maneke Law Group
Kansas City, MO
Dan Margolies, retired
Kansas City Business Journal
Kansas City, MO
Ashley Messenger, media lawyer/journalist
NPR
Washington, DC
Nathan Sigel, partner
Davis Wright Tremaine
Washington, DC
6:00 p.m. | Speaker's social event
AXIS Insurance Offices
4622 Pennsylvania Ave, Suite 1200
Please join us after the Thursday bonus session at AXIS Insurance's new office overlooking the Country Club Plaza for drinks and hors d'oeuvres. All seminar panelists and attendees are invited.
---
Friday, April 21
8:00 a.m. | Welcome
Katie Studt, media and the law committee chair, AXIS Insurance, Kansas City, Mo and Max Kautsch, program chair, Lawrence, KS
Seminar Moderator: Max Kautsch
8:10 a.m. | Panel 1 - Witness for the prosecution? Reexamining journalists' cooperation with authorities
Witness for the Prosecution?  Reexamining journalists' cooperation with authorities
Relying on the protection of shield laws, journalists have customarily refused to cooperate with prosecutors and other authorities. On occasion, though, journalists have shared material with and testified for prosecutorial authorities. Is this a trend? When and how are these decisions being made? This panel will examine the state of shield laws, case studies of cooperation, and any resulting legal and institutional risks.
What is the status of state shield laws protecting journalists from subpoenas and other compulsory processes?
Are states continuing to adopt such statutes?
How do they work?  What are common exceptions?
How will the new (Nov 22) Department of Justice guidelines regarding interaction with journalists work?
How do these protections apply to different categories of journalists, e.g daily reporters, documentarians, book authors, and citizen-journalists?
Who makes the decision for a reporter to cooperate?
What is the role of inside and outside counsel at a new organization?
Does a reporter need their own counsel?
What are the legal implications of a decision to cooperate or not?
How are ongoing relationships between authorities and news organizations affected by decisions to cooperate or not?
Statutes and guidelines aside, what are the First Amendment implications of journalist cooperation?
Moderator:
Carol LoCicero, partner
Thomas & LoCicero
Tampa, FL
Panelists
Jean Peters Baker, district county prosecutor
Jackson County
Kansas City, MO
Damon E. Dunn, attorney
Funkhouser Vegosen Liebman & Dunn
Chicago, IL
Alex Holder, filmmaker
AJH Films
Los Angeles, CA
Russell Smith, partner
SmithDehn
Los Angeles, CA
9:00 a.m. | Panel 1 Q&A
9:10 a.m. | Panel 2 - Journalists affiliated with educational institutions under attack.
With the decline of traditional for-profit news organizations, non-profit news organizations are filling the gap. Many of those organizations are affiliated with educational institutions and confront unique challenges. These include the challenge of reporting on the institution itself, insecurity of funding, lack of training, censorship, etc. Reporters at such organizations also confront questions about the applicability of shield laws and, on the flip side, attempt to use state open records law to obtain access to their reporting records. This panel will examine these, and the many other challenges faced by reporters affiliated with educational institutions.
Are journalists affiliated with educational institutions covered by reporter shield laws?
What limitations can educational institutions place on reporters – both reporters for the institution and outside reporters seeking information about the institution?
Can educational institutions censor publications associated with the institution – does it matter if the reporters are students or professionals?
How should journalists affiliated with educational institutions work with confidential sources – should they?
What legal resources are available to reporters associated with educational institutions?
Can state open records laws be used to obtain the files of a reporter affiliated with a public educational institution?
Moderator:
Lindsie Rank, student press counsel
Foundation for Individual Rights and Expression
Philadelphia, PA
Panelists:
Genelle Balmas, associate professor
William Allen White School of Journalism & Mass Communications
University of Kansas
Lawrence, KS
Steve Vockrodt, investigative editor
KCUR
Kansas City, MO
Senator Barbara Washington
Missouri Senate, District 9
Kansas City, MO
10:00 a.m. | Panel 2 Q&A
10:15 a.m. | Break
10:30 a.m. | Panel 3 (Ethics) - Lying, lawyers, lying lawyers, and liar libel: an ethical guide and mashup
Lawyers have an ethical obligation not to lie. But this seemingly simple proposition raises a host of questions. This two-hour panel will explore the ethical dimensions of lawyer lying, particularly as reflected in recent high-profile cases like that of Rudy Giuliani. It will also explore the question of how media law treats accusations of lying and the phenomenon of "liar libel," made famous by cases involving such high-profile figures as Bill Cosby and Donald Trump. Issues to be discussed include:
What counts as a "lie?"
If a lie is a knowing falsehood, then when do we "know" we're saying something false?
Why do we think lying is wrong? Is lying always wrong?
Are there times when a lawyer is not only permitted to lie, but expected to do so?
When does an accusation of lying amount to defamation?
Is such an accusation one of fact or opinion? Does it matter who's doing the accusing?
Moderators: 
Leonard Niehoff, attorney and professor
Honigman Law and University of Michigan
Ann Arbor, MI
Bruce Johnson, media lawyer and partner
Davis Wright Tremaine, LLP
Seattle, WA
Panelists:
Stan Hazlett, retired disciplinary administrator
Lawrence, KS
Ashley Messenger, media lawyer/journalist
NPR
Washington, DC
Deanna Shullman, managing partner/media lawyer
Shullman Fugate PLLC
West Palm Beach, FL
Nancy Snow, professor
University of Kansas, Department of Philosophy
Lawrence, KS
11:20 a.m. | Panel 3 Q&A
11:30 a.m.| Luncheon Address - No CLE's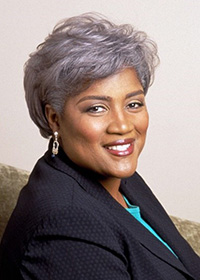 Donna Brazile is a veteran political strategist, senior advisor at Purple Strategies, New York Times bestselling author, chair of the J. William Fulbright Foreign Scholarship Board, and sought-after Emmy- and Peabody-award-winning media contributor to such outlets as ABC News, USA Today and TheGrio.
She became the first African American woman to serve as the manager of a major party presidential campaign, running the campaign of former Vice President Al Gore. She previously served as interim chair of the Democratic National Committee and of the DNC's Voting Rights Institute. She is a current member of the DNC Rules and Bylaws Committee.
She is the author of the 2004 best-selling memoir Cooking with Grease: Stirring the Pots in American Politics and the 2017 New York Times Bestseller Hacks: The Inside Story of the Break-Ins and Breakdowns That Put Donald Trump in the White House. She is a co-author of For Colored Girls Who Have Considered Politics, which won the 2019 NAACP Image Award for Outstanding Literary Work, Nonfiction. Brazile is a contributor to the recently published 400 Souls: A Community History of African America, 1619-2019.
She serves as an adjunct professor in the Women and Gender Studies Department at Georgetown University and served as the King Endowed Chair in Public Policy at Howard University and as a fellow at the Institute of Politics at Harvard Kennedy School. She has lectured at nearly 250 colleges and universities on diversity, equity and inclusion; women in leadership; and restoring civility in American politics.
She is the proud recipient of more than ten honorary doctorate degrees from major colleges and universities, including her alma mater Louisiana State University. In October 2012, Brazile was the recipient of the W.E.B Du Bois Medal, Harvard's highest honor in African American studies. Brazile was the recipient of a Daytime Emmy Award for Outstanding Daytime Program, Good Morning America (2016-2017) in connection with her work with ABC and she was a member of the Peabody Award-winning "Best Political Team on Television" on CNN during the 2008 election cycle.
She moonlights as an actress and is especially honored to have made three cameo appearances on CBS's The Good Wife, and two cameo appearances on Netflix's series House of Cards. She also appeared as herself on BET's Being Mary Jane. Most recently she played herself in the Zack Snyder film Army of the Dead. Ask her and she'll tell you that acting, after all, is the key to success in politics.
1:00 p.m. | Panel 3 (continued) - Lying, lawyers, lying lawyers, and liar libel: an ethical guide and mashup
1:50 p.m. | Panel 3 Q&A
2:00 p.m. | Break
2:15 p.m. | Panel 4 - Internet law in flux: the future of online speech as section 230 and state social media laws face challenges
Internet law and online speech are at a crossroads. This year, the U.S. Supreme Court will interpret Section 230 of the Communications Decency Act for the first time and will likely review Texas and Florida's social media laws. In Gonzales v. Google and Twitter v. Taamneh, the Supreme Court will address whether Section 230 protects targeted recommendations and whether online platforms can be liable under anti-terrorism laws. Meanwhile, the Supreme Court is expected to determine the constitutionality of a pair of state laws that impose transparency requirements on social media companies and restrict them from moderating certain speech. These cases could significantly impact the current internet ecosystem and shape the future of online speech. This panel will discuss, among other topics:
What is at stake in Gonzales v. Google, Twitter v. Taamneh, and the NetChoice cases?
Could these cases impact online intermediary liability?
Could they change content moderation decisions?
Could they limit free expression and access to information online?
Will Congress continue to stay silent?
Will other states follow Texas and Florida?
What are the practical implications for lawyers representing traditional and tech clients?
Moderator:
Michael Lambert, attorney
Haynes Boone
Austin, Texas
Panelists:
Cailin Vogus, deputy director of CDT's Free Expression Project
Center for Democracy & Technology
Washington, DC
Scott Wilkens
Knight First Amendment Institute
Washington, D.C.
3:05 p.m. | Panel 4 Q&A
3:15 p.m. | Panel 5 - Liars who lie and naming names
In an age of conspiracy theories, how might actors like Alex Jones, Mike Lindell, Project Veritas, and various high-profile public officials be chipping away at hard-won First Amendment precedents? How should journalists cover the mis- and dis-information they spew? Do we need a recalibration of defamation law to protect the media illiterate? Or is an absolutist view of the First Amendment still the best way to protect democracy? Join us for a discussion of these and other fascinating and difficult issues.
Moderator:
Leita Walker, partner
Ballard Spahr, LLP
Minneapolis, MN
Panelists:
Cathy Gellis, attorney
San Francisco, CA
Elizabeth Williamson, New York Times reporter and author of "Sandy Hook"
Washington, D.C.
Clay Wirestone, opinion editor
Kansas Reflector
Lawrence, KS
Steve Zansberg, partner
Law Office of Steven D. Zansberg, LLC
Denver, CO
4:05 p.m. | Panel 5 Q&A
4:15 p.m. | Adjourn
4:30 p.m. | Cocktail Reception
Kansas City Area Attractions
Thinking of enjoying the weekend in Kansas City after the seminar? There are attractions and events for everyone, including:
For additional information on the above attractions and Kansas City events, visit visitkc.com.
Program Accessibility
We accommodate persons with disabilities. Please call 785-864-5823 to discuss your needs. To ensure accommodation, please register at least three weeks before the start of the seminar. Review the nondiscrimination policy below.
Refund/Cancellation Policy
If you find you are unable to attend, we encourage you to send a qualified substitute and notify us ahead of time if possible. If you find you still need to cancel, a full refund of registration fees, less a $50 administrative fee, will be available if requested in writing at jayhawkglobal@ku.edu and received by April 13, 2023. No refunds will be made after that date. A $30 fee also will be charged for returned checks.
Please note that if you fail to cancel by the deadline and do not attend, you are still responsible for payment. KU Jayhawk Global, Academic & Professional Programs, reserves the right to cancel the 35th Annual Media and the Law Seminar and return all fees in the event of insufficient registration. The liability of the University of Kansas is limited to the registration fee. The University of Kansas will not be responsible for any losses incurred by registrants, including but not limited to airline cancellation charges or hotel deposits.
Privacy Policy
KU Jayhawk Global, Academic & Professional Programs, does not share, sell or rent its mailing lists. You have our assurance that any information you provide will be held in confidence by Jayhawk Global.
We occasionally use mailing lists that we have leased. If you receive unwanted communication from Jayhawk Global, it is because your name appears on a list we have acquired from another source. In this case, please accept our apologies.
Nondiscrimination Policy
The University of Kansas prohibits discrimination on the basis of race, color, ethnicity, religion, sex, national origin, age, ancestry, disability, status as a veteran, sexual orientation, marital status, parental status, gender identity, gender expression, and genetic information in the university's programs and activities. Retaliation is also prohibited by university policy. The following persons have been designated to handle inquiries regarding the nondiscrimination policies and are the Title IX coordinators for their respective campuses: Associate Vice Chancellor for the Office of Civil Rights and Title IX, civilrights@ku.edu, Room 1082, Dole Human Development Center, 1000 Sunnyside Avenue, Lawrence, KS 66045, 785-864-6414, 711 TTY.