W. Blake Wilson
---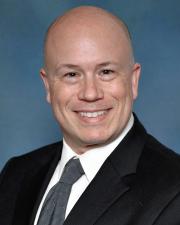 Assistant Director for Instructional & Faculty Services
He/him/his
Biography
—
W. Blake Wilson graduated from the University of Missouri in Columbia with both his J.D. and a Master's in Information Science and Learning Technologies in May 2004. That same month, he started working for one of the largest law firms in the Kansas City area, where he conducted research and instructed attorneys on the finer points of electronic database usage. The role of digital media specialist was passed down to him, and Wilson later worked for an even larger firm as a litigation support analyst using those skills. In January 2007, Wilson became the Instructional and Research Services Librarian at the Wheat Law Library, where he continues on his path, instructing individuals and conducting research.
Education
—
J.D., University of Missouri School of Law, 2004
M.A. in Information Science and Learning Technologies, University of Missouri, 2004
B.A. in Philosophy, University of Missouri-Kansas City, 2000
Research
—
Computer law
Intellectual property
Buddhism and the law
Law librarianship
Comic books and the law
Social networking
Career History
Litigation Analyst, Shook, Hardy & Bacon, 2006; Research and Reference, Polsinelli Shalton Welte Suelthaus, 2004-2006; Reference and Digital Media Specialist, University of Missouri at Columbia School of Law Library, 2002-2004; Judicial Intern, Missouri Western District Court of Appeals, 2000-2001.
Teaching
—
Advanced Legal Research, Research in Lawyering, Topics in Advanced Legal Research
Selected Presentations
—
Publications and Presentations
Continuing legal education seminar, "Find it Free and Fast on the Net: Advanced Internet Strategies for the Missouri Legal Professional" (contributing author)
Research Guide to Internet Copyright Law (author)
Missouri Bar CLE, "Legal Research and the Internet," "How to Manage a Law School Library: Leading Librarians on Updating Resources, Managing Budgets, and Meeting Expectations" (contributing author)
"Superheroes and the Law" (presenter)