Brandon D. Henry
---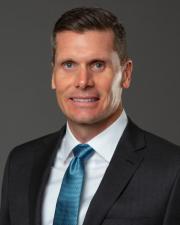 Biography
—
Brandon Henry is a partner at Wagstaff & Cartmell LLP whose practice is devoted entirely to litigation. Henry has extensive jury trial experience, which includes cases with multi-million dollar damage claims in multiple state and federal jurisdictions. Henry focuses his practice on the areas of professional liability, product liability, explosion and electrocution cases, trucking litigation, personal injury, wrongful death and commercial and business litigation.
Education
—
J.D., University of Kansas, 2003
B.A., Washburn University, 2000
Selected Publications
—
Co-Author, "Defining the Standard of Care: An Opportunity for Defendants," For the Defense (DRI, November 2006).
Memberships
—
Kansas Bar Association, The Missouri Bar, Kansas City Metropolitan Bar Association, Johnson County Bar Association, Missouri Organization of Defense Lawyers, Defense Research Institute
Admitted
Kansas state courts; Missouri state courts; U.S. District Court Kansas; U.S. District Court Missouri, Western District; U.S. Court of Appeals, 10th Circuit; U.S. Court of Appeals, 8th Circuit