John C. Peck
---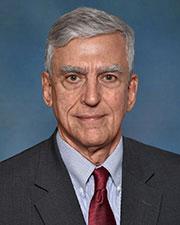 Connell Teaching Professor Emeritus of Law
Biography
—
A native Kansan, John Peck graduated from Kansas State University in 1968 with a degree in civil engineering. After working three years for the U.S. Public Health Service and the EPA in Washington, D.C., he earned his law degree from the KU School of Law. He practiced law with Everett, Seaton, Peck in Manhattan, Kan., from 1974 to 1978 and joined the law faculty in 1978. He teaches contracts, land transactions, water law, and family law, and is special counsel to Foulston Siefkin LLP in Wichita. Peck is a recognized authority on Kansas water law and a highly regarded teacher. He was named a Connell Teaching Professor of Law in 1999, and he received both the Dean Frederick J. Moreau Award and the Immel Award for Teaching Excellence in 1998. In 2004, the university awarded him a W.T. Kemper Fellowship for Teaching Excellence. In 2018, he was awarded the Clyde O. Martz Teaching Award by the trustees of the Rocky Mountain Mineral Law Foundation. After 41 years of teaching at KU Law, he retired in 2019.
Education
—
J.D., University of Kansas School of Law, 1974
Articles Editor, University of Kansas Law Review
B.S., Kansas State University, 1968
Research
—
Water law
Comparative water law
Family law
Real estate
Admitted
Kansas 1974
Career History
Partner, Everett, Seaton & Peck, Manhattan, Kansas 1974-78; Professor, Kansas since 1978; Visiting Professor, University of Vienna Law School, Austria, spring 1992; Robert A. Schroeder Teaching Fellow 1993-96; Special Counsel, Foulston & Siefkin, LLP since 1996; Connell Teaching Professor since 1999.
Selected Publications
—
"Legal Responses to Drought in Kansas," 62 Kansas Law Review 1141 (2014)
"Comparative Water Law and Management: The Yellow River Basin in Western China and the State of Kansas In the Western United States," XVIII Kansas Journal of Law & Public Policy 428 (with Burke W. Griggs & Xue Yupeng) (2009)
"Land Description Errors: Recognition, Avoidance, and Consequences," Rocky Mountain Mineral Law Foundation Journal 253 (with Christopher L. Steadham) (2009)
"Groundwater Law and Management: The Asia (IWMI)-Kansas Program," 41 Creighton Law Review 315 (with Burke W. Griggs) (2008)
"Groundwater Management in Kansas: A Brief History and Assessment," 15 Kansas Journal of Law & Public Policy 441 (2006)
"Property Rights in Groundwater - Some Lessons from the Kansas Experience," 12 Kansas Journal of Law & Public Policy 493 (2003)
"Title and Related Considerations in Conveying Kansas Water Rights," 66 Journal of Kansas Bar Association 38 (1997)
"Loss of Water Rights for Non-Use," 43 Kansas Law Review 801 (with C. Owen) (1995)
"Liability of Engineers for Structural Design Errors: State of the Art Considerations in Defining the Standard of Care," 30 Villanova Law Review 403 (with Wyatt A. Hoch) (1985)
Memberships
—
Order of the Coif; Kansas Bar Association; American Bar Association; American Water Resources Association.