Jordan Carter
---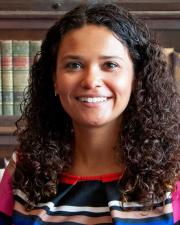 Visiting Assistant Professor
Director of Diversity, Equity, Inclusion & Belonging
Biography
—
Jordan Carter joined the University of Kansas School of Law as a visiting assistant professor and director of diversity, equity, inclusion and belonging in fall 2021.
Prior to joining the KU Law faculty, Carter was a judicial law clerk for Hon. James O'Hara, chief magistrate judge of the United States District Court, District of Kansas. Carter was previously a product liability associate with Shook, Hardy & Bacon LLP in Kansas City, Missouri.
Carter earned a J.D. from the KU School of Law.
Education
—
J.D., University of Kansas, 2015
B.A. in Women and Gender Studies; Psychology, Washington University in St. Louis, 2011
Teaching
—
Lawyering Skills
Career History
University of Kansas School of Law, Visiting Assistant Professor and Director of Diversity, Inclusion, Equity and Belonging, 2021-present; United States District Court, District of Kansas, Judicial Law Clerk for Hon. James O'Hara, Chief Magistrate Judge, 2019-2021; Shook, Hardy & Bacon LLP, Product Liability Associate, 2015-2019