Laura J. Hines
---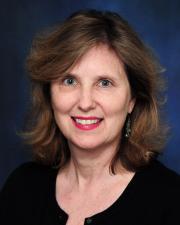 Centennial Teaching Professor
Director, Shook, Hardy & Bacon Center for Excellence in Advocacy
Biography
—
Laura Hines teaches Civil Procedure, Complex Litigation, and Remedies. Her scholarship examines the intersection of procedure and tort law, with a particular focus on aggregate litigation. Hines's articles have appeared in the George Washington Law Review, Emory Law Journal, Wake Forest Law Review, Indiana Law Journal, and other leading publications. She has consulted or testified as an expert on class certification law in several mass tort class action cases. She currently is the director of the Shook, Hardy & Bacon Center for Excellence in Advocacy. She was named the Centennial Teaching Professor in 2019.
Before joining KU, Hines was a litigation associate at the Washington, D.C., offices of Arnold & Porter, and clerked for Chief Justice Donald P. Lay of the United States Court of Appeals for the 8th Circuit. She is a graduate of Brown University and the University of Michigan Law School, where she served as a note editor on the Michigan Law Review. 
Education
—
J.D., University of Michigan Law School, 1991
Note Editor, Michigan Law Review
A.B., Brown University, 1987
Research
—
Class actions
Punitive damages
Mass torts
Admitted
D.C. 1992, Minnesota 1991
Career History
Clerk, Chief Judge Donald P. Lay, U.S. Court of Appeals, 8th Circuit, 1991-92; Associate, Arnold & Porter, DC, 1993-97; Visiting Professor, University of Michigan, Fall 1996; Associate Professor, University of Kansas, 1998-2004; Professor, 2004-present.
Teaching
—
Civil Procedure, Complex Litigation, Jurisdiction, Remedies
Selected Publications
—
"Reconsidering the Issue Class Action," 79 University of Cincinnati Law Review (2011)
"Mirroring or Muscling: An Examination of State Class Action Appellate Rulemaking," 58 Kansas Law Review 1027 (2010)
"Driving Misjoinder: The Improper Party Problem in Removal Jurisdiction," 57 Alabama Law Review 779 (2006), with Steven S. Gensler
"Secret Settlement Restrictions and Unintended Consequences," 54 Kansas Law Review 1457 (2006), with Christopher R. Drahozal
"The Dangerous Allure of the Issue Class Action," 79 Indiana Law Journal 567 (2004)
"Due Process Limitations on Punitive Damages: Why State Farm Won't Be the Last Word," 37 Akron Law Review 779 (2004)
"Challenging the Issue Class Action End-Run," 52 Emory Law Journal 709 (2003)
"Obstacles to Determining Punitive Damages in Class Actions," 36 Wake Forest Law Review 889 (2001)