Stephen R. McAllister
---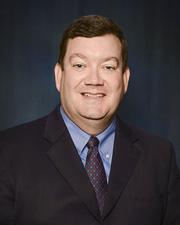 E.S. & Tom W. Hampton Distinguished Professor of Law
Biography
—
Prior to joining the KU Law faculty in 1993, Stephen McAllister clerked for Justices Byron White and Clarence Thomas at the Supreme Court of the United States and Judge Richard Posner at the United States Court of Appeals for the Seventh Circuit. He also was in private practice in the Washington, D.C., office of the Los Angeles law firm Gibson, Dunn & Crutcher. A respected teacher, scholar and appellate lawyer, he received the Dean Frederick J. Moreau Award in 1997, a W.T. Kemper Fellowship for Teaching Excellence in 1999 and the Steeples Award for Service to Kansans in 2008. He served as the first and only Solicitor of the State of Kansas from 1999 to 2003 and was dean of the law school from 2000 to 2005. He also served as the Solicitor General of Kansas, assisting the attorney general's office with constitutional litigation, including briefing, arguing and winning for Kansas the case of Kansas v. Ventris (U.S. 2009). In November 2010, the U.S. Supreme Court appointed McAllister to defend the judgment below in Bond v. United States, No. 09-1227. In that capacity, McAllister filed a merits brief, and he presented oral argument to the court on Feb. 22, 2011.
In 2013, McAllister assisted the Kansas Attorney General in Kansas v. Cheever​ (U.S. 2013), which Kansas won 9-0 in the Supreme Court. In October 2014 McAllister will argue for Kansas in the case of Kansas v. Nebraska and Colorado (U.S.).
Also in 2013, McAllister taught a Landmark Supreme Court Cases course with Justice Clarence Thomas through a study abroad program in Innsbruck, Austria. 
From 2018 to 2021, he served as the U.S. Attorney for the District of Kansas. 
Education
—
J.D., University of Kansas School of Law, 1988
Articles Editor, University of Kansas Law Review
B.A., University of Kansas, 1985
Research
—
Constitutional law generally, including state constitutional law
Federal topics, such as federalism, free speech, congressional power and constitutional torts
U.S. Supreme Court history
Admitted
Illinois 1989, D.C. 1991, Kansas 1993, Supreme Court of the United States, most Federal Courts of Appeal, and the District of Kansas.
Career History
Clerk, Judge Richard Posner, U.S. Court of Appeals, 7th Circuit 1988-89; Clerk, Justice Byron White, U.S. Supreme Court 1989-91; Clerk, Justice Clarence Thomas, U.S. Supreme Court 1991-1992; Associate, Gibson, Dunn & Crutcher, DC, 1992-93; Visiting Associate Professor, Kansas 1993-95, Associate Professor, Kansas 1995-98, Professor since 1999; Associate Dean of Academic Affairs 1999-2000; Dean 2000-2005; Interim Director, Dole Institute of Politics 2003-04.
Teaching
—
Civil Rights Actions, Federal Constitutional Law, Torts, State Constitutional Law, Introduction to Constitutional Law
Selected Publications
—
"The Department of Justice is Born: Its First Three(?) Attorneys General," 23 Green Bag 2D (Spring 2020)
"The Famous Relatives of Supreme Court Justices: An Update," 22 Green Bag 2D 237 PDF (Spring 2019)
"The Supreme Court and Superman: The Justices and the Famous People in Their Family Trees," 21 Green Bag 2D 219 PDF (Spring 2018)
"Turkey and the Supreme Court of the United States," published as a chapter in Festschrift to Honor Prof. Dr. Feridun Yenisey (September 2014)
"Justice Byron White and The Brethren," 15 Green Bag 2D 173 (2012)
"Standing Up For Mrs. Bond," 15 Green Bag 2D 3 (2011)
"A Marbury v. Madison Moment on the Eve of the Civil War: Chief Judge Roger Taney and the Kentucky v. Dennison Case," 14 The Green Bag 2D 405 (2011)
"Individual Rights Under a System of Dual Sovereignty: The Right to Keep and Bear Arms," 59 Kansas Law Review 865 (2011)
"State Constitutional Law: The Modern Experience" (Thomson-West 2010) (casebook), Holland, McAllister, Shaman & Sutton
"Ask the State Solicitor General: Can the State File a 'Reply' Brief When It Takes An Exception In An Original Jurisdiction Case In The Supreme Court of the United States?", 29 Review of Litigation 537 (2010) (part of University of Texas symposium issue)
"The Supreme Court's Treatment of Sovereigns as Amici Curiae," 13 Green Bag 2D 289 (Spring 2010)
"Can Congress Create Procedures for the Supreme Court's Original Jurisdiction Cases?", 12 Green Bag 2d 281 (2009)
"Funeral Picketing Laws and Free Speech," 55 Kansas Law Review 101 (2007)
"Some Reflections on the Constitutionality of Sex Offender Laws," 50 Kansas Law Review 101 (2002)
"'Insider' Deaning," 34 University of Toledo Law Review 121 (2002)
"Sex Offenders and Mental Illness: A Lesson in Federalism and the Separation of Powers," 4 Psychology, Public Policy & Law 1 (1998)
"The Constitutionality of Sex Offender Registration and Community Notification/Public Access Laws," 29 Texas Tech Law Review 97 (1998)
"The Problem of Implementing a Constitutional System of Capital Punishment," 43 Kansas Law Review 1039 (1995)
"A Pragmatic Approach to the Eighth Amendment and Punitive Damages," 43 Kansas Law Review 761 (1995)
Memberships
—
American Law Institute; Order of the Coif; American Bar Foundation Fellows; Supreme Court Historical Society.