Hybrid model of teaching legal research is here to stay
---
This article is from the fall 2021 issue of Hearsay, the semi-annual newsletter of the Wheat Law Library.
Article
The instruction of legal research to first-year students may have been slowly evolving, but it was ready for the pandemic. Shockingly ready.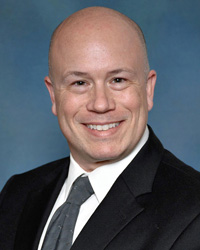 I attended law school in the early 2000s. At that time, legal research was something mentioned but not assigned. One or two days during the first semester of our first-year Lawyering course, a librarian would come to lecture us armed with a PowerPoint presentation and a cartful of books. I can't say that it was ineffective. I can say that it was not optimal. For one thing, there was only a mention of online resources such as Westlaw and Lexis. Neither database was introduced to us until second semester. Also, there was no hands-on, research specific learning. We had no research assignments to cut our teeth on outside of what was required to write a Motion for Summary Judgment.
When I started teaching at KU Law in 2007, things were better. The librarians were given their own time to spend with the students outside of the first-year Lawyering class. On the third floor, where all the research material for Kansas is kept, each small section would meet with a librarian. There the students were shown the books and how to use them. Following an assignment borrowed from a research workbook, the students would work their way through legal problems, unrelated to what they were working on in the lawyering course. These assignments could be a bit tough to wade through since they weren't written specifically for Kansas, but they were doable. However, just as with my law school experience, Westlaw and Lexis were kept out of the curriculum until the spring semester.
It didn't take long before the Lawyering instructors and the librarians had a sit down to discuss what was and was not working. This was part of a larger conversation going on that resulted in the creation of a Lawyering Skills Boot Camp for incoming 1Ls.
First on the agenda was the research assignments. It proved too difficult trying to get research problems written for a non-Kansas jurisdiction to work out. These were re-written for the Kansas researcher. Next came the issue of the librarians' times not being included in the students' schedules, much to the shock and dismay of the students. Working with the administration, we were able to get these times placed on the first-year students' schedules as a research lab.
Next was access to Westlaw and Lexis, more specifically to their citators. Until this point, students were asked to use the book version of Shepard's to determine whether the cases cited were good law. However, the serial collection we had on hand was no longer being updated and its usefulness waned with each passing semester. Students would need access to an online citator. They would need earlier access to Westlaw and Lexis and during Boot Camp seemed to be the logical choice. Training on each database would then be done later and then full use of Westlaw and Lexis would be available half-way through the first semester so they could use each for their open memos.
This model held well until fall of 2020. Because of social distancing requirements and closing off the library stacks, the research labs had to focus exclusively on online content. After searching the landscape for various resources, we landed on Core Knowledge for Lawyers and the associated book Legal Research Demystified: A Step-by-Step Approach by Eric P. Voigt. Core Knowledge guides the user through a problem using Westlaw and Lexis. It then questions, corrects and grades the students' work. The librarians would then be there to go over any questions that seemed to give students the most problems.
This was a stark change, but stark changes were the norm. We weren't sure about the end results. The idea behind using books stems from several different ideas:
Books may offer better retention. This has been studied and discussed since e-readers first came available with mixed findings. My take is that everyone is different and, for some, the experience of book research causes greater retention. In order to determine whether this is the case, you must do it.
Not everything is online. Or it may be behind a paywall. Or you may have to be a member to gain access. Or it may have an embargo on it so that the publisher can make money selling the books as well as licensing content to vendors. There are many reasons this may be the case.
Legal informatics is based on the write-submit-publish model, which has carried over to the digital world. Understanding this process and working through it on paper solidifies such notions as slip opinions, legislative service publications, and administrative regulations.
I had to wonder: Would the students gain the skills needed to conduct the research for the first-year Lawyering Skills course?
Turns out the answer is "yes." The quality of work the students produced showed that there may be an advantage to getting the students online sooner rather than later.
This led to the discussion of how to proceed in fall 2021. It was obvious that we wanted Westlaw and Lexis moved up in the curriculum. Keep in mind that when I started, the databases weren't even accessible until the second semester. Now we are discussing online research from the jump. However, I stand by the notion that in order to create the ability to correctly analyze a legal issue, one must be proficient in both book and online research.
Through some work with the Lawyering Skills faculty and the library faculty, we developed a hybrid model of research instruction that gives students early access to online resources while keeping them in the books.
The method is quite simple. I cut out a couple of the book assignments and modified them, making them simpler. These were then divided into three categories: Secondary Sources, Common Law, and Statutes. The first two weeks of the library lab consists of book-based research, with week one being Secondary Sources and week two being Common Law & the Digest System. Week three is Common Law using online resources through Core Knowledge. Week four finds the students back in the books, looking at Statutes. Week five and they are looking at Statutes online.
While the jump to earlier online research for students was a response to an unprecedented situation, it proved to create some advantage. Students are now given an even greater head start honing their research skills while at the same time building the analytical skills that come from diving into books.
Blake Wilson
Assistant Director for Instructional and Faculty Services